Though it seems Cesc Fabregas wasn't the dressing room rat at Chelsea, but it appears as though he did play his part in getting Jose Mourinho sacked.
The former Arsenal man did take to social media to speak of his gratitude toward his recently sacked boss, but according to Friday's edition of The Times, Mourinho was given a further push through the exit thanks to a training ground bust up.
In their report, The Times claim that "Jose Mourinho's penultimate day as Chelsea manager was marred by a training-ground bust-up involving several of his first-team players."
And it appears as though Fabregas was at the centre of the fracas with a "strong but fair challenge", which sparked a brawl amongst several of his teammates.
It isn't said whether Mourinho was involved in the scrap, but a members of the coaching staff were forced to intervene to settle the frayed tempers before resuming the session.
See the full report below…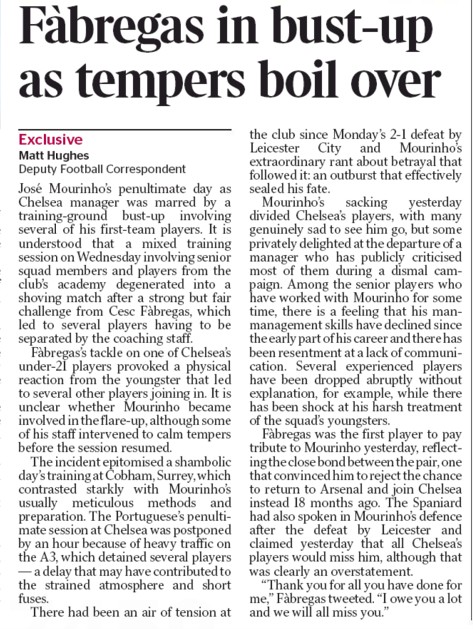 SEE MORE:
Exclusive: Arsenal eye January move for Barcelona starlet striker Munir El Haddadi
Football's best Christmas jumpers: Arsenal go 3D, Man U play safe, Chelsea 4th, Villa embarrassing
Arsenal transfer news: Assist-king Mesut Ozil ready to pen bumper new deal with Gunners