Arsenal took all the points in this week's Monday night clash with Manchester City, with the Gunners unquestionably showing their title credentials. We've got the Player Ratings from Arsenal site All Arsenal, do you agree with their ratings?
————————————————————————————————————————————–
A massive three points for us, with goals from Olivier Giroud and Theo Walcott sealing the victory over Manchester City. The win arguably makes us favourites for the title, but there's still a long way to go.
Here's how we rate the players from our 2-1 win over Manchester City:
GK) Petr Cech – 7.0
Despite plenty of half chances for City, Cech didn't have a huge amount of top quality saves to make. He did everything very professionally and maintained his concentration, and could do nothing to deny Yaya Toure.
RB) Hector Bellerin – 6.5
Caught out of position a couple of times and showed his inexperience, but overall a solid performance.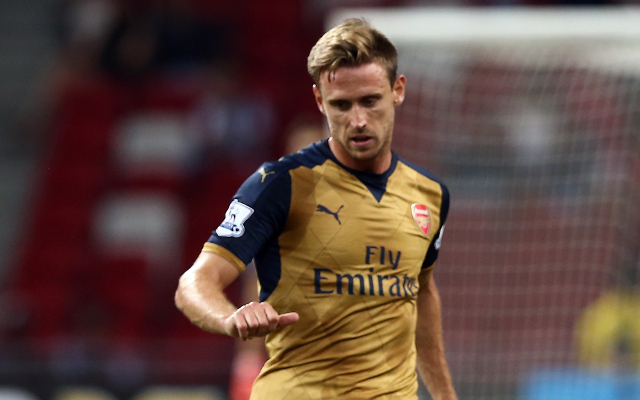 LB) Nacho Monreal – 8.0
A superb performance from the Spaniard, who was defensively solid, got forward well, and put in a huge amount of effort throughout the game. He benefited hugely from the hard work of Theo Walcott and Joel Campbell, but nothing should be taken away from the left-back.
CB) Per Mertesacker – 7.5
Some great interceptions and clearances, with one interception to prevent Kevin De Bruyne breaking through on goal particularly standing out. He was arguably lucky when Jesus Navas broke through on goal, but made sure he was in the right place to cut out the pass across goal.
CB) Laurent Koscielny – 7.5
Another stellar performance from the Frenchman, who completely shut down Sergio Aguero. He was caught out rather carelessly when he moved into midfield to close down the Argentine, but thankfully wasn't punished for it.
SEE MORE:
Arsenal transfer news
DM) Mathieu Flamini – 6.5
One of the weak links on the night, and was caught out on a couple of occasions. He put in the effort and aggression for most of the game, but can't hold a candle to Francis Coquelin.
CM) Aaron Ramsey – 6.5
Unfortunately for Ramsey, he just can't play the disciplined role in midfield alongside Flamini. He'd arguably do a far better job alongside Coquelin, but he struggles to get the balance between attack and defence. He also missed a superb opportunity to put the game to bed, failing to score from a few yards out.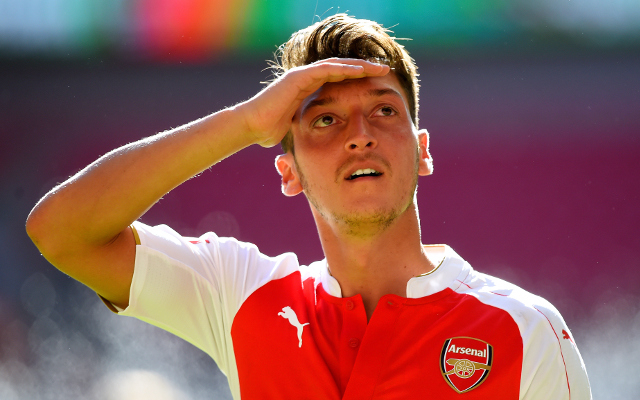 CAM) Mesut Özil (MotM) – 8.5
Two more assists for our creative king, Özil just continues to impress in that No.10 role. He ran the game and looked a threat every time he got on the ball, setting up Theo Walcott and Olivier Giroud for their goals.
Substitute: Alex Oxlade-Chamberlain – 6.5
A few decent runs forward, but by the time he was brought on we were already shutting up shop and looking to defend our lead.
RAM) Joel Campbell – 8.0
Despite a couple of missed chances, this was arguably Campell's best performance in an Arsenal shirt. The effort he put in was immense, and we saw just how much we missed the Costa Rican when Kieran Gibbs replaced him.
Substitute: Kieran Gibbs – 5.5
A really poor performance off the bench, with the left-back showing a poor touch, poor passing, and a real lack of composure on the ball.
LAM) Theo Walcott – 8.0
Walcott still had plenty to do after intercepting Özil's pass, but showed real quality when he cut inside and lashed his shot past Joe Hart. He also put in a real defensive shift, tracking back and putting tackles in right up until he was substituted.
Substitute: Calum Chambers – N/A
Barely on the pitch long enough to impact the game, stood up well to Yaya Toure in midfield.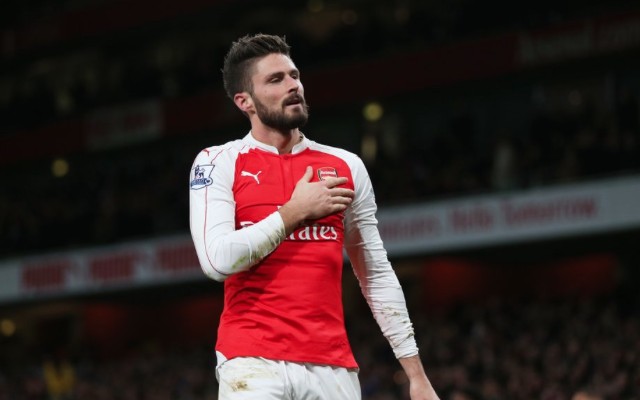 ST) Olivier Giroud – 8.0
Held the ball up well yet again, brought his teammates into the game, and nutmegged Hart to get the goal after receiving the ball from Özil.