With 2015 done and dusted, some of our writers have looked back on a dramatic 12 months and have each picked their Premier League Team of the Year.
Players from, Man City, United, Arsenal, Spurs, Southampton, Swansea, West Ham, Crystal Palace and, of course, Leicester feature as members of the CaughtOffside team select their star-studded XIs. However, Chelsea are mentioned rather sparingly, despite their title triumph in May.
We start with our very own US Soccer Guy, Jonathan Machlin, who, rather like Tim Sherwood, clearly has no time for defensive midfielders…
Jonathan Machlin's Premier League Team of 2015 (above)
Jonathan says: "Joe Hart, Hector Bellerin and Kyle Walker feel like no-brainers, while Vincent Kompany and John Terry are included specifically for their incredible 2014-15 form. The opposite is true for Riyad Mahrez, who makes the XI for what he's done in the last four months.
"Man City's remarkable trio of Kevin De Bruyne, David Silva and Raheem Sterling have overwhelmed teams and all are each elite in their own right.
"Mesut Ozil is the assist king of Europe. As for Harry Kane, he's simply one of the most dependable scorers in world football."
SEE ALSO: Premier League idiots of 2015: Raheem Sterling pips LVG & sacked Chelsea legend to win unwanted award
—————————————————————————————
Next up is Ashley Attlee – the biggest Arsenal fan in our ranks.
Far be it for us to accuse Ash of bias, but 45% of his team play for the Gunners!
Ashley Attlee's Premier League Team of 2015 (below)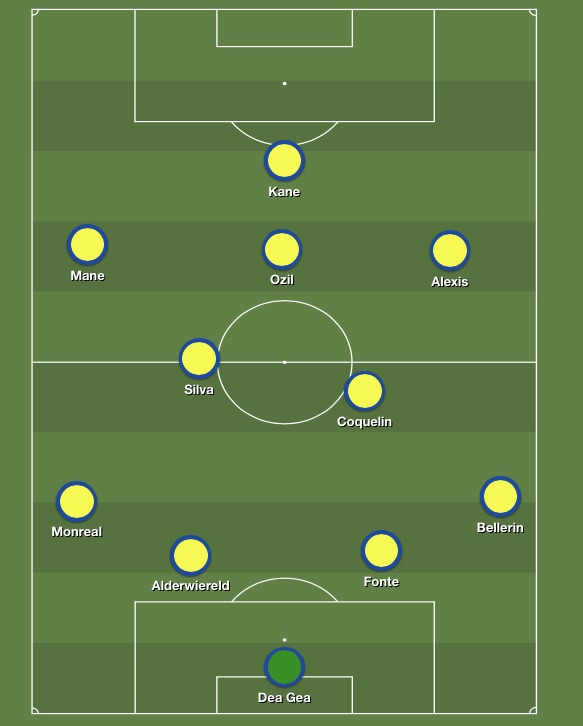 SEE ALSO: Premier League Player of 2015: Arsenal & Leicester stars in two-horse race
—————————————————————————————
From Arsenal-obsessed Ash, we move to Spurs fanatic Joe Fish.
Either Joe is much more impartial, or Tottenham were significantly inferior to Arsenal in 2015, because only 9% of Mr Fish's picks live at White Hart Lane.
In fairness to Joe, he has picked his team like a right little football hipster, recognising the contributions of Crystal Palace's Joel Ward and West Ham United's Winston Reid – two players who have had excellent years, but were not picked by any of our other writers.
Joe Fish's Premier League Team of 2015 (below)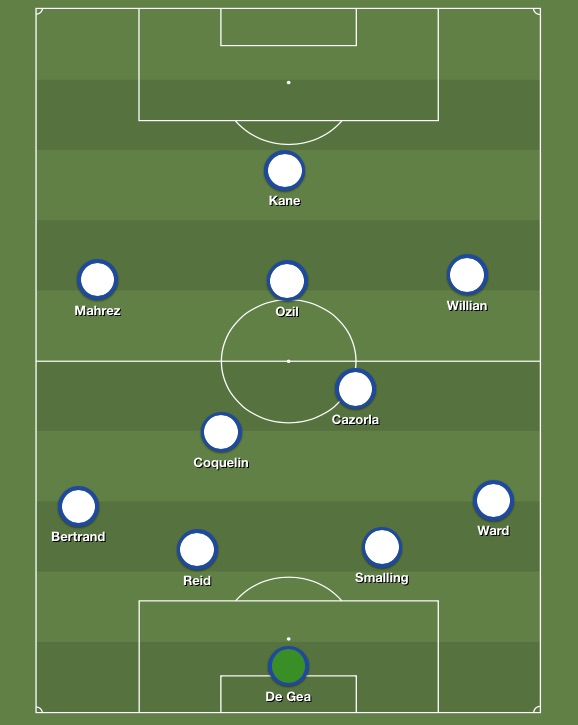 SEE ALSO: Premier League Manager of 2015: Spurs boss, Leicester duo & Arsene Wenger nominated
—————————————————————————————
Another Spurs fan, Robert Summerscales, follows Joe.
There's no need to give Rob too much of an introduction, because he's gone to the trouble of explaining all 11 of his picks!
Robert Summerscales' Premier League Team of 2015 (below)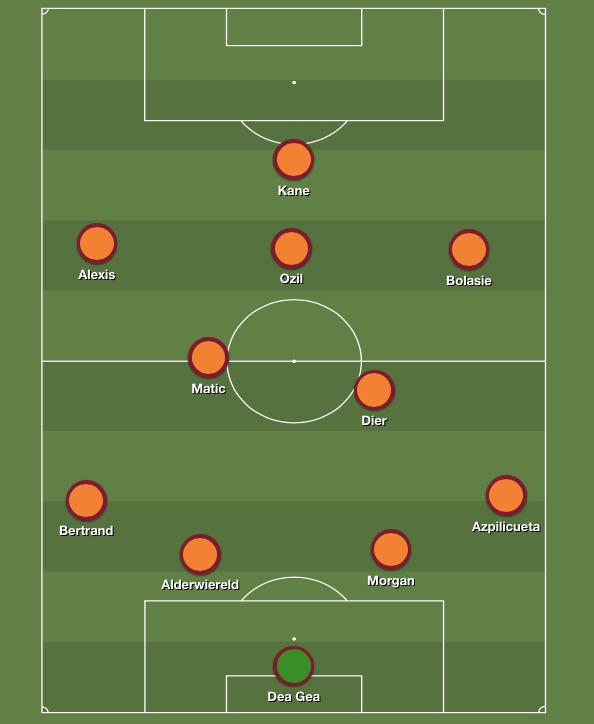 Rob says: "David de Gea, Hugo Lloris or Thibaut Courtois would all be worthy goalkeepers in a dream team of 2015. However, the Man United stopper edges out Courtois because he has played more often, while he is just ahead of Lloris, who has been slightly more error-prone.
"With Chelsea laughably languishing in 14th place, it is easy to forget just how good they were last season, but we shouldn't. Nemanja Matic and Cesar Azpilicueta (albeit at left-back, rather than on the right) were both terrific last term and have been two of Chelsea's better performers throughout their testing 2015-16 campaign so far.
"Former Chelsea defender Ryan Bertrand has quickly become one of the best full-backs in England. He spent the first half of the year next to Toby Alderwiereld at Southampton, who boasted one of the Premier League's finest backlines in the 2014-15 season. Alderwiereld has since moved on to Spurs, who now have the division's stingiest defence.
"As brilliant as Alderwiereld has been for Spurs, the White Hart Laners would not be half as solid at the back were it not for Eric Dier, who will prove to be England's anchor-man saviour in years to come.
"Jamie Vardy and Riyad Mahrez have both had wonderful years at Leicester, but many people underestimate the importance of Foxes skipper Wes Morgan – football's finest heavyweight.
"Vardy is pipped by Tottenham record-breaker Harry Kane up top, because his hot streak has been slightly longer. And it would be wrong to ignore Crystal Palace trickster Yannick Bolasie.
"Finally, Mesut Ozil has once again provided better assistance than Santa's elves, while Alexis Sanchez has taken to the Premier League like a pig to muck!"
—————————————————————————————
If one man is capable of rivalling Joe Fish in the football hipster stakes then it's our Merseyside-raised, Strasbourg-residing, African football expert, Ed Dove.
Ed has only picked one African, in Leicester playmaker Riyad Mahrez, but he did admit that Palace's DR Congo winger Yannick Bolasie and Nigerian Watford goal machine Odion Ighalo were in his thoughts.
Ed Dove's Premier League Team of 2015 (below)
Ed says: "The stand-out names here are in attack, where I was loath to leave out Odion Ighalo, Ross Barkley and Yannick Bolasie. Harry Kane and Jamie Vardy picked themselves—which bodes well for England—while Riyad Mahrez was impossible to overlook.
"Gylfi Sigurdsson – something of a guilty pick – is a touch of class every time he takes to the field, while Dimitri Payet – truly magnificent in France last season – is an immensely effective creator."