Liverpool legend Steven Gerrard packed some interesting reading material for his flight to Australia.
The former Reds captain, now playing for Los Angeles Galaxy, is flying Down Under to play for Liverpool's all-star side against a team of Australian legends at ANZ Stadium on January 7.
The journey to Sydney is a long one and Gerrard seemingly plans to kill the time by reading 'Pep Confidential' – Marti Perarnau's take on the Spaniard's first season in charge at Bayern Munich.
Gerrard's Instagram post ahead of take off showed the book poking out of his hand luggage: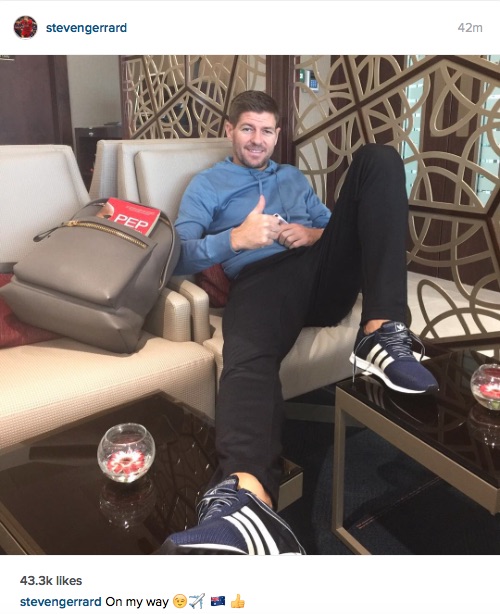 Perhaps the 35-year-old is doing some research ahead of Guardiola's potential arrival to the Premier League next season. He has announced that he is leaving Bayern at the end of his contract in June.
Manchester City, Manchester United and Chelsea are believed to be queuing up to secure the two-time Champions League-winning manager of Barcelona's signature, according to the Daily Star.
Apparently Gerrard is another of Guardiola's many fans. Enjoy the read and safe flight, Stevie!
SEE ALSO:
Liverpool's £20m January transfer budget: Five wingers Reds could sign including Arsenal targets
Our favourite darts walk-on girls: Stunning photos will blow your mind
Hottest football WAGs 2015: Wilshere's new girlfriend joins Chelsea, Liverpool & Man United babes in top 10