This week has brought about the return of the mythical Aaron Ramsey curse after both David Bowie and Alan Rickman have passed away within 24 hours of the Welsh international finding the net.
Following in a bizarre chain of famous deaths after Ramsey scores, the midfielder, who had previously been made aware of the stories, must be worried that this unwanted reputation is now becoming a well known phenomenon.
In a 2015 Bleacher Report interview, Ramsey was quizzed on the story, admitted that he knew of the record, but didn't find it amusing as the snippet below reveals.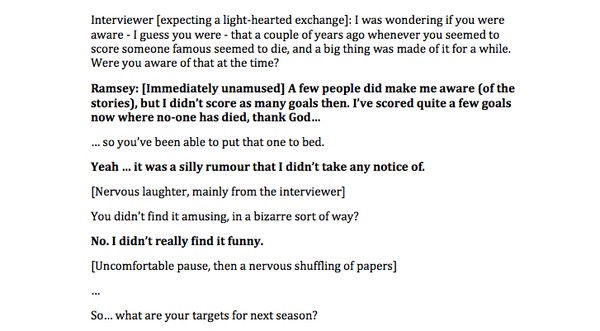 Many fans, pundits and official channels have since taken to Twitter to react to this event in the wake of actor Alan Rickman passing away, and even we can't deny that the case is growing ever stronger.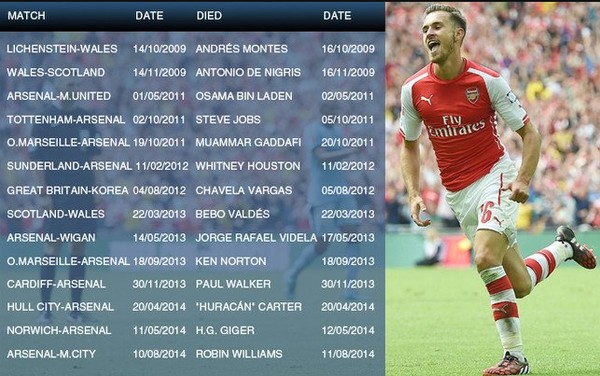 Scroll below for the best reactions…
Aaron Ramsey scored last night didn't he…?

— Michael Graham (@Capt_Fishpaste) January 14, 2016
The Aaron Ramsey curse continues….kinda weird pic.twitter.com/XNfepYqubw

— Aaron (@GymKardashian) January 14, 2016
Some celebrity is dying tomorrow then right, the Ramsey curse and all.

— CallMeDrStrangelove (@NoIdentityFound) January 13, 2016
Aaron Ramsey scores, another celebrity dies…

— West Ham Central (@WestHam_Central) January 14, 2016
567 Tweets on WADA and 17.8 thousand on Aaron Ramsey being a harbinger of death.

— Teddy Cutler (@TeddyCutler) January 14, 2016
The Aaron Ramsey scoring curse is genuinely getting a bit creepy now..

— Henry Dean (@HDean0) January 14, 2016
There are rumours that Robert Mugabe had a heart attack. Let's hope Ramsay scores tonight #ramseycurse

— Trevor Green (@trumpi) January 13, 2016
Aaron Ramsey should be sent to Azkaban. This, indubitably, is an indication of the involvement of dark magic.

— Liverpool FC 360 (@LFC_360) January 14, 2016
SEE MORE:
Video: £30m South American Chelsea transfer target scores sloppy rabona
Chelsea international fuels exit rumours by admitting he's not happy at Stamford Bridge
Manchester United, Liverpool to miss out as Chelsea open talks for £40m Real Madrid star