Follow @robsummerscales on Twitter
If you are waking up for work a little tired this morning after staying up late to watch the final throws of Transfer Deadline Day on Sky Sports News, you probably wish you hadn't bothered.
And so you should. You'd be in a much better mood right now had you opted for Celebrity Big Brother on Channel 5 instead.
Not only could you have been asleep by 10pm, you would have witnessed TOWIE's Gemma Collins riding round the CBB garden on a Shetland Pony too!
But no, you got caught up in Sky's advertising campaign. Jim White seduced you, didn't he?
What an anti-climax. Yes, Stoke City and Everton splashed a bit of cash, but, despite Jolly Jim's best attempts (which included blatant on-air prompts to Niall Quinn to give viewers false hope about a possible Saido Berahino move, even after the player himself had tweeted the world goodnight), it was clear from 7pm that no drama was to be had.
Tottenham Hotspur and Manchester United couldn't even be bothered to fake it this year.
Of course, it's not Sky's fault that the transfers on offer were more uninspiring than the prospect of a day's fishing with Andy Murray, but the broadcasting giants certainly could have done more to keep the audience entertained.
For one, they should never have banned fans from congregating behind their reporters as they gave live updates from training grounds and stadium car parks.
The stale show was crying out for a dildo in a journalist's ear!
Sadly, a cringeworthy and cumbersome gag from Adam Leventhal, holding up a Watford shirt and pretending he was new signing, was the closest thing to fun viewers were offered all night.
SEE MORE: Rhodes & Niasse? Dismal Deadline Day proves Sky Sports transfer party is well and truly over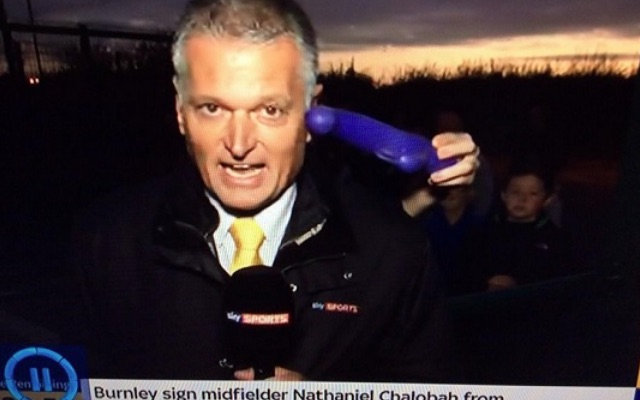 SEE ALSO:
Louis van Gaal's 4ft porn star double 'shags' Liverpool fan's wife in disabled toilets of football club
Six Premier League managers who would be decent craic down the boozer… And the 14 we'd send to voicemail!
Premier League predictions: Arsenal & Liverpool to drop points, Hiddink's Blues to extend unbeaten run