Jamie Vardy's life would make a cracking Hollywood script.
And it seems that such a dream may be about to become a reality!
Film-maker Adrian Butchart met with Leicester City's chat-shit-get-banged striker this week to discuss the possibility of putting Vardy's story on the big screen.
It has been reported that One Direction singer Louis Tomlinson is being lined up to play Vardy in the epic biopic.
However, we are not convinced that Tomlinson, who once flirted with the idea of buying Doncaster Rovers, is the right man for the job.
So, let us suggest five alternatives who would be much better for the leading role…
SEE ALSO: Six Premier League managers who would be decent craic down the boozer… And the 14 we'd send to voicemail!
5. Christopher Mintz-Plasse
Vardy loves to party, so who better to play him than McLovin?
4. Denzel Washington
Was outstanding in Training Day and, if he's good enough to play Malcolm X, he's good enough to play Vardz!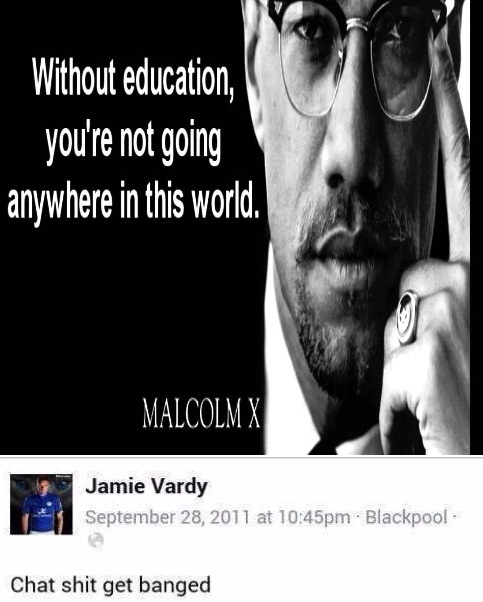 3. Scotty T
His stock – like Vardy's – is on the rise, following a strong performance in the Celebrity Big Brother House. A fellow chav-done-good, Scotty would "smash it" if given the role. That's not all he'd smash, mind…
2. Alex Kew
The child star, who found junior fame in My Parents Are Aliens, was a dead ringer for Vardy back in his prime. He looks a bit different these days, but, after a haircut and a Hollywood wash, he'd definitely be worth an audition.
1. Sir Daniel Day-Lewis
The best method actor the world has ever produced should be the first choice for any role. After six months preparing, he'd become a better footballer than Vardy!
SEE MORE: Bring back dildos and sex dolls because Sky Sports' censored Deadline Day absolutely sucked