There are plenty of factors behind Tottenham Hotspur's tilt at the Premier League title this season.
The goals of Harry Kane. The incredible emergence of Dele Alli. A division-best defence which has been greatly improved by Toby Alderweireld. But here is a rather simple one; they work bloody hard!
Manager Mauricio Pochettino has become renowned for two things since coming to the Premier League – putting his faith in young players, and a physically demanding playing and pressing style.
His philosophies have intrinsically changed the make-up of a club who have gone from having the softest underbelly to one which is a physical and mental match for any other side in the top flight.
This is reflected in statistics collated by Sky Sports showing which Premier League players cover the most distance per game. Three Spurs players – attackers no less – feature in the top seven.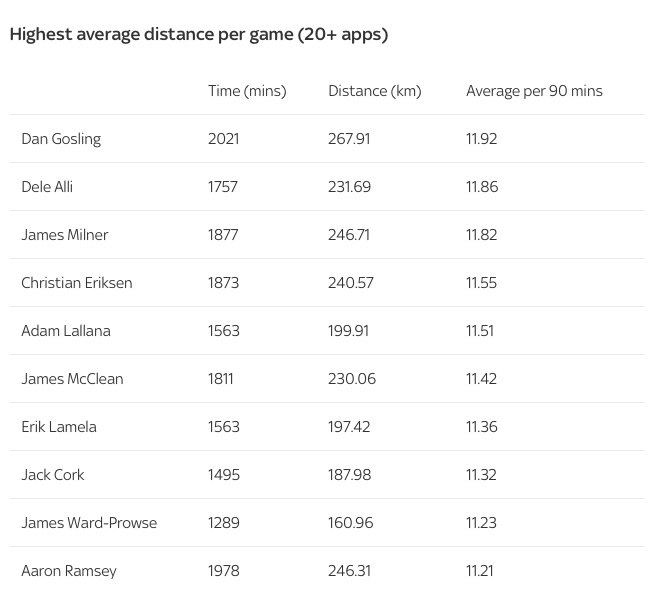 As well as contributing seven goals and five assists, Alli runs an average of 11.86km per game – second only to Bournemouth midfielder Dan Gosling when analysing those who have played at least 20 matches.
Christian Eriksen and Erik Lamela, who complete Tottenham's most frequently used attacking-midfield three, place fourth and seventh respectively, showing that the hard work starts at the front.
While Alli comes from more industrious midfield roots, Eriksen and Lamela may have been considered luxury players prior to Pochettino's arrival. But the Argentine has no room for luxury players.
These figures show that Pochettino has instilled an incredible work ethic throughout his Tottenham side that may not be present throughout the other title contenders. Aaron Ramsey is the only Arsenal, Manchester City or Leicester City player to feature in the top 10, averaging 11.21km covered per outing.
Mark Albrighton has covered the most ground for leaders Leicester, with 254.19km at an average of 10.85km per game. Bacary Sagna is City's top runner – 222.47km at an average of 9.44 per game.
And, in this completely unpredictable title race, when the smallest of margins may make the biggest of differences, it could be that the team that works the hardest is celebrating come the end of the season.
SEE MORE:
Harry Kane: Tottenham hotshot fires warning to Man City ahead of title showdown
Manchester United hold talks with representatives of Tottenham boss Pochettino
Who will win the Premier League title?: Arguments made for Arsenal, Leicester, Man City AND Spurs!