On-loan Arsenal goalkeeper Wojciech Szczesny has launched a Facebook rant against the media after being angered by speculation over his future.
The 25-year-old is on loan at Roma this season, but there have been differing reports on whether the Italian club want to sign him permanently.
Another source has claimed that Everton want to sign the Poland international as a replacement for veteran Tim Howard at the end of the campaign.
SEE MORE: Everton identify 25-year-old Arsenal international to solve problem position
Szczesny is frustrated by the contrasting stories and took to his official Facebook account to lambast the media for being 'rubbish at their job'.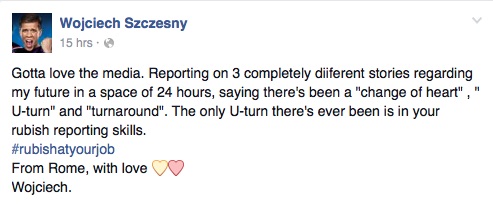 That makes two of us then Wojciech! The stopper is not wanted at Arsenal, who bought Petr Cech and David Ospina because of their lack of faith in Szczesny.
Manager Arsene Wenger seemingly got fed up with the ill-discipline and costly mistakes which made Szczesny a weak link in the Gunners' side for several years.
Things started reasonably well for Szczesny at Roma, but soon fell apart as he was dropped from Rudi Garcia's team in November because of "technical reasons".
New boss Luciano Spalletti has restored him to the side, but Szczesny's record of three clean sheets in 20 Serie A appearances this season is nothing to shout about.
The Gunners reject should settle down. He is lucky that anybody is talking about him at all.
SEE ALSO:
England hopeful on Arsenal's Jack Wilshere but Luke Shaw set to miss Euro 2016
Arsenal stepping up interest in Javier Hernandez ahead of summer transfer deal
Pundit blasts Arsenal ace Alex Oxlade-Chamberlain for "laughing and giggling too much"