Arsenal and Barcelona do battle in the first leg of their Champions League last 16 tie tonight.
Two things seem certain:
1. It's going to be bloody beautiful to watch.
2. Arsenal are going to get slaughtered over two legs.
OR ARE THEY? There are only two ways Arsenal can beat Barcelona in Champions League mis-match… But both are morally wrong!
The Gunners have some lovely footballers in their squad, but how many of them would get in Barca's best XI?
We asked ourselves that question and, after much consideration, deemed that just three Gunners players would improve Luis Enrique's side.
Step forward Petr Cech and Laurent Koscielny and Mesut Ozil.
Cech walks into an Arsenal and Barcelona combined XI. He is still one of the best goalkeepers in the world and is miles better than Claudio Bravo or Marc-Andre ter Stegen.
However, Koscielny and Ozil's inclusions are less clear-cut. The outfield Gunners duo scraped in, edging out Javier Mascherano and Ivan Rakitic, who are both very valuable cogs in the Barca machine.
Deluded Gooners may try to make a case for Alex Sanchez, but the Chilean, who was offloaded by the Catalan giants in 2014, is nowhere near good enough to displace Lionel Messi, Luis Suarez or Neymar.
I've also heard Arsenal fans suggest that Nacho Monreal and Hector Bellerin would improve the Club World Cup winners. Not having it!
Bellerin is a very exciting young right-back who has taken to the Premier League like a duck to water. But it is madness to suggest that he is better than three-time Champions League winner Dani Alves, who was named in UEFA's 2015 Team of the Year.
Monreal can reasonably argue that he is the best left-back in the Premier League, but, if he's better than Jordi Alba – who is three years younger than him – how come he has only got 16 Spain caps, compared to the Barca man's 39?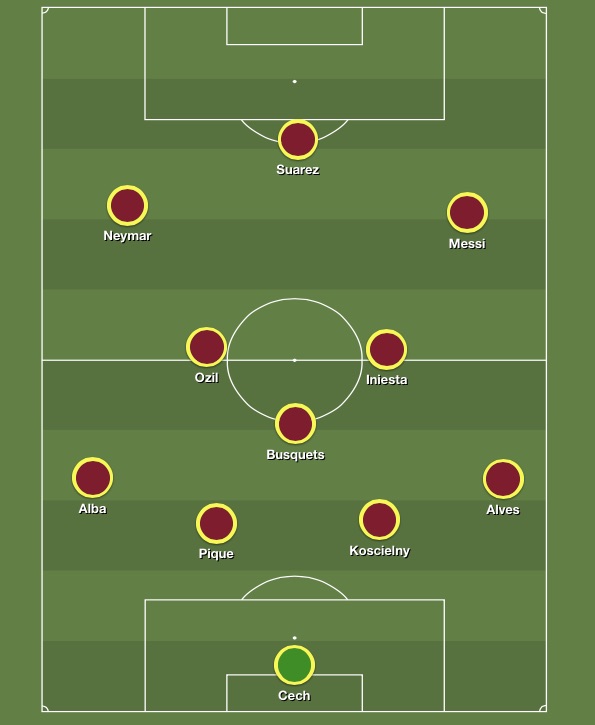 SEE ALSO: Three ways imminent £47m Man United signing Felipe Anderson could be used at Old Trafford next season