Barcelona were beaten 2-1 by Arsenal on their last trip to the Emirates in 2011, although the Catalan side made up for that defeat by winning the second leg 3-1 in somewhat controversial circumstances.
The Gunners are massive underdogs going into tonight's game in North London. Here's how we expect them to line up.
Predicted Arsenal XI v Barcelona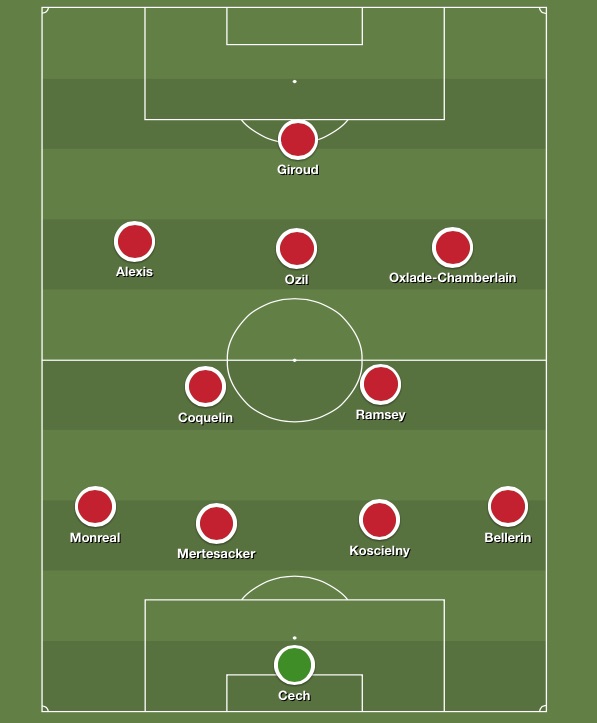 Petr Cech will start in goal unless something horrible happens. The former Chelsea stopper is likely to be very busy, but he has reason to be confident – he has kept two clean sheets in his last four games against Barca.
SEE ALSO: Careless Luis Suarez FORGETS PASSPORT as Barcelona arrive at airport ahead of Arsenal trip
Arsenal's defence will almost certainly include Nacho Monreal, Laurent Koscielny and former Barca kid Hector Bellerin, while Per Mertesacker, despite his lack of pace, is likely to play too, as Gabriel Paulista continues to nurse a hamstring injury.
Chief breaker-upper Francis Coquelin and Welsh wizard Aaron Ramsey, who The Express claimed last month was being lined up for a big-money summer move to Barca, should be paired in the centre of the field, behind former Real Madrid playmaker Mesut Ozil.
Ozil and ex-Barca star Alexis Sanchez will probably be among the first names on Arsene Wenger's teamsheet, but it is less clear who will play alongside them in attacking midfield.
Alex Oxlade-Chamberlain could well be in contention for a start, after being rested for most of Sunday's 0-0 draw with Hull City.
The Ox tends to work harder than Walcott on the pitch, which could be vital – as Arsenal will surely be made to run a lot by Barca's brilliant passers.
Danny Welbeck would be the ideal player to fill in on such a night under normal circumstances, but he probably isn't yet fit enough to start in a game like this, after only coming back from injury recently.
SEE MORE: There are only two ways Arsenal can beat Barcelona in Champions League mis-match… Both are morally wrong!