The term 'world class' is a very subjective one.
Some argue that to be world class, a player must command a place in the ultimate world XI, which we reckon looks something like this right now…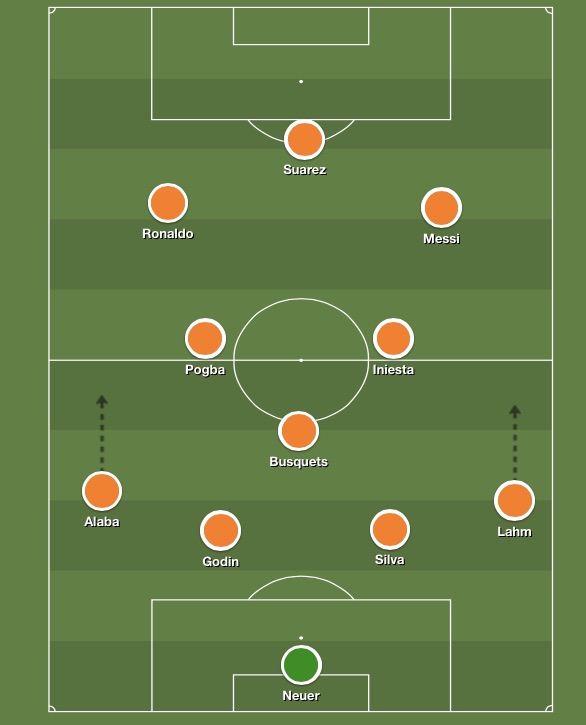 However, we prefer to define world class as 'a footballer who is among the best five players on the planet in his position'.
So, by that rationale, are there any world class players in the Premier League?
We opened up that question to our Twitter followers.
And yes, it sounds like there might be.
Manchester United's star man was the most popular choice. And we don't mean their £300,000-a-week captain.
David de Gea is easily among the best five goalkeepers on Earth, but perhaps he's not the only world class stopper in England?
Arsenal's Petr Cech, Chelsea's Thibaut Courtois and Spurs skipper Hugo Lloris also earn nominations from our social media pundits.
At the other end, Sergio Aguero's name was raised. And it's hard to argue that the Manchester City hitman is not among the world's most deadly centre-forwards.
I tried to throw Toby Alderweireld into the mix, as he has been the Premier League's best centre-back this season and he is a regular starter for Belgian, who are top of the FIFA World Rankings.
At the time of writing, I received no objections, so it is *official*, Tottenham's no.4 is world class!
Come on. Let's have some names! https://t.co/4WdfmOdJH8

— CaughtOffside (@caughtoffside) March 10, 2016
Keeper fetish much?! How would you rank those three, out of interest? And who are your other two worldie GKs? https://t.co/PUveL8tnxm — CaughtOffside (@caughtoffside) March 10, 2016
@yksbhoy61 @caughtoffside 1. Buffon 2.Cech 3.De Gea 4.Neuer 5.Hart
Neuer is made to look alot better than he is because of his defences

— Jack Edwards (@JackAFCEdwards) March 10, 2016
@caughtoffside @robsummerscales De Gea and Aguero — Rich Stone (@richstone77) March 10, 2016
David de Gea https://t.co/O7NDx79l5X

— MALIK.. (@Marleek99) March 10, 2016
.@caughtoffside are there 5 CBs in the world better than @AlderweireldTob – @mattletiss7's Player of the Year pick?? #COYS #THFC #SaintsFC — Robert Summerscales (@robsummerscales) March 10, 2016
@caughtoffside Agüero, De Gea are my stronger picks. Özil is creeping. It's a depressing reality that question. Shows the lack of quality

— Peter. (@PeterOfYork) March 10, 2016
We'll accept. Ozil's the ultimate creeper! Arsenal fans would burn down the internet if someone didn't mention him????? https://t.co/DHmJgjM3vX — CaughtOffside (@caughtoffside) March 10, 2016
In conclusion…
I am willing to accept that Mesut Ozil is among the best five no.10s in the world, while Man City's David Silva – although no one mentioned his name – also has to fall into that category.
De Gea is definitely world class – so are Courtois and Lloris. Cech WAS when he was in his prime, but he no longer gets in my top five, where three Prem stoppers are joined by Gianluigi Buffon and Manuel Neuer.
Aguero's title as world class doesn't need to be debated and, finally, until somebody convinces me that there are five centre-backs better than him, I am adamant that Alderweireld is elite.
Mesut Ozil = world class
David Silva = world class
David de Gea = world class
Thibaut Courtois = world class
Hugo Lloris = world class
Toby Alderweireld = world class
SEE ALSO: Newcastle is the best that Rafael Benitez can hope for in the Premier League