Diego Costa could learn a thing or two from Gareth Barry about integrity and honesty.
The Everton midfielder has surely spared the Chelsea striker a long suspension by taking to social media to insist that Costa did not bite him during yesterday's FA Cup quarter-final at Goodison Park.
SEE MORE: Video: Diego Costa shockingly appears to bite Gareth Barry in Chelsea loss
Watch more brilliant snippets like this with fanatix's FREE sports video news app.
Costa was sent off for an altercation with Barry, in which it appeared as though he opened his jaw and moved it towards the veteran midfielder's neck. But, it seems that he didn't sink his teeth in.
Costa, via a Chelsea statement, denied the accusations, and Barry has now nobly spoken out to clear his fellow professional with this post on social media account Fanzai – (apparently he's not a tweeter!)
SEE MORE: Diego Costa: Chelsea striker denies biting Gareth Barry – judge for yourself on video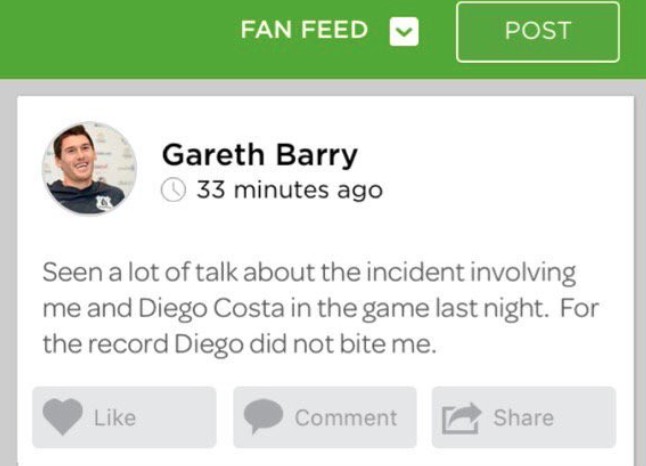 The Spain international should be very thankful to Barry for drawing a line under the incident. Without the 35-year-old's admission, Costa could have faced a Luis Suarez-length 10-match ban.
And Barry could quite easily have kept quiet. He and Costa were at each other's throats all evening on Merseyside. In-fact, the former England international soon followed his opponent in being dismissed.
This just goes to show what a good bloke Barry is, and Costa would do well to emulate his professionalism. He may get away with this one, but the Chelsea star's attitude needs curbing drastically.
SEE ALSO:
'Diego Costa is a Vampire,' fans write on Twitter following FA Cup biting
Diego Costa ban: Chelsea striker should get Suarez suspension, say stunned fans
Chelsea player ratings: Cahill impresses but Costa disgraces himself at Everton