Manchester United and England great David Beckham has shown his support for under-fire Arsenal manager Arsene Wenger in a heartfelt social media post.
An increasing number of Gunners fans are calling on Wenger to step down after another disappointing result in Sunday's FA Cup quarter-final defeat to Watford.
SEE MORE:
Arsenal player ratings v Watford: 8/10 Ozil stands alone, defence a liability as Gunners crash out
Next Arsenal manager: Our five candidates to replace Arsene Wenger includes two ex-Gunners

But Beckham took exception to an Arsenal fan's banner at the Emirates Stadium, which read "Arsene. Thanks for the memories but it's time to say goodbye".
The 40-year-old former England captain, whose United side fiercely battled Wenger's Arsenal for the Premier League title either side of the new millennium, took to Instagram to describe the banner as "disgraceful", and its creators as "attention seekers".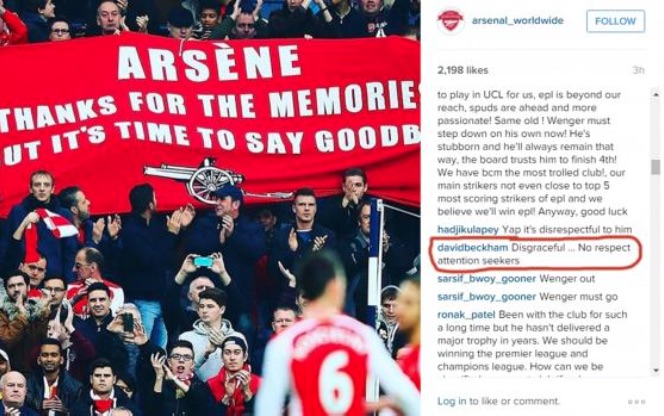 Beckham trained with Wenger's Arsenal in two different MLS off-seasons to maintain fitness, and his eldest son, Brooklyn, was once on the books of the club's academy.
This is simply an example of one professional standing up for another. Wenger could only dream of the same level of support from Arsenal's supporters as things stand.
SEE ALSO:
Why Arsenal are terrified to sack Arsene Wenger
Opinion: Arsene Wenger says job speculation is "becoming a farce" – but so is Arsenal's season
Confused Gooners decide to support Leicester, proving they hate Spurs more than they love Arsenal