How many times have we heard this before: "Arsenal have been eliminated from the Champions League" – ? Well the correct answer is one more time because Arsenal have been eliminated from the Champions League after losing to Barcelona both on the second leg at Camp Nou in a 3-1 loss and on a 5-1 aggregate.
After losing the FA Cup this past weekend, Arsenal now find themselves without any remaining competitions other than the Premier League – which they now trail by 11 points with less than 10 matches to go. One has to wonder if this loss will either inspire Arsenal to go all in for an unlikely title run or merely accelerate the downward spiral the team appears to be on.
Here are the Arsenal player ratings v Barcelona in the Champions League:
GK David Ospina – 7
Some terrific saves, but his best one of the day was followed up a minute later by an easy Neymar goal… The crazy goals by Messi and Suarez were just icing on the Barcelona cake.
DF Hector Bellerin – 6
Stumble allowed Luis Suarez to get open for a goal.
DF Gabriel – 6
Yellow card for Gabriel in the first half (deserved or no?) to go along with some good tackles and four cleared balls. Not enough though…
DF Laurent Koscielny – 6
Good tackling but not much else from Koscielny.
DF Nacho Monreal – 5.5
Did not tackle at all per the stat sheet and committed several fouls.
MF Mathieu Flamini – 4.5
A yellow card and an injury in the first half resulted in a benching for Coquelin before the end of the first 45 minutes.
MF Mohamed Elneny – 8.5
In the first half Elneny displayed a strong leg on his shot that veered too far to the right. In the second half he was the MotM with one of the best goals anyone has scored against Barcelona all year.
MF Alex Iwobi – 7
A hard but necessary choice for Wenger, Iwobi struggled to create chances or free space up for Alexis and Ozil.
MF Mesut Ozil – 7.5
Tried his darnedest to take an early lead, but Barca's defense closed in too quickly for Ozil to aim his shot.
MF Alexis Sanchez – 7
Sanchez could not create any good chances despite several windows of opportunity.
FW Danny Welbeck – 6
Welbeck had a chance early in the game, but nothing came of it.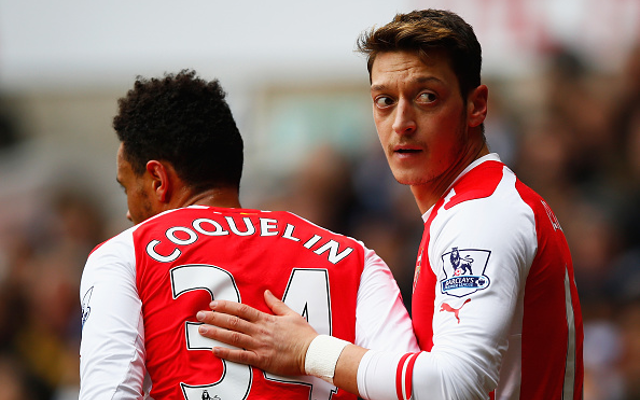 Substitutes:
Francis Coquelin – 7
Did quite a lot of ball control in the half he had to play.
Olivier Giroud – 6
Surprisingly or not, Giroud was unable to make any scoring chances in the final minutes of the game when Arsenal needed them the most.
Theo Walcott – 5
Very minimal impact from Walcott after replacing Welbeck up front.
SEE MORE:
Video: Paul Pogba strikes as Juventus stun Bayern Munich with early goal
American wonderkid signed by Man United compared to Dani Alves by Duke coach
Champions League Live Stream – Watch Barcelona v Arsenal Online from Nou Camp Tonight