The Premier League title race will enter its final straight after the international break, with Leicester City the shock frontrunners and Tottenham Hotspur and Arsenal the thoroughbreds in pursuit.
Can either of the North London clubs catch the Foxes, or will Leicester secure their fairytale title triumph? Here, CaughtOffside predicts how the title race will play out on a game-by-game basis.

SEE MORE:
Arsenal key man believes title is still winnable & Wenger is the man for the job
Arsenal legend tips Tottenham for title over former club and Ranieri's boys
Opinion: Leicester City face crucial four-week span that could win Premier League title

April 2-3
Arsenal 2-0 Watford
Liverpool 2-2 Tottenham
Leicester 1-1 Southampton
Arsenal will exact FA Cup revenge on Watford and gain ground on the top two, who will both draw. Liverpool and Spurs will put on a show at Anfield, and in-form Southampton will hold Leicester.
Standings: 1st: Leicester 67. 2nd: Tottenham 62. 3rd: Arsenal 58.
April 9-10
West Ham 2-1 Arsenal
Sunderland 1-0 Leicester
Tottenham 1-0 Manchester United
A great weekend for Mauricio Pochettino's side as they knock off Manchester United at home while their two rivals lose difficult away games against teams who also need the points, for different reasons.
Standings: 1st: Leicester 67. 2nd: Tottenham 65. 3rd: Arsenal 58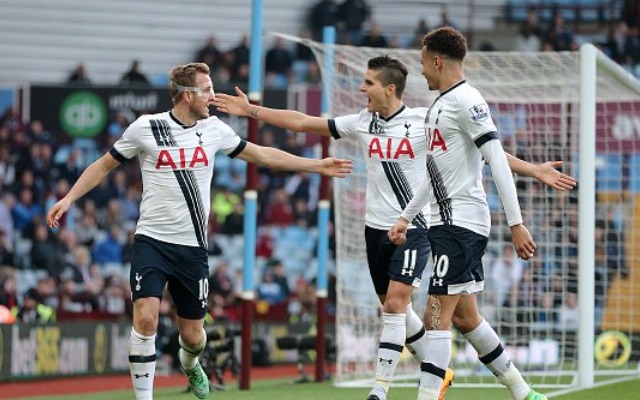 April 17-18
Leicester 1-1 West Ham
Arsenal 2-0 Crystal Palace
Stoke City 1-2 Tottenham
Leicester's wobble – they have to have one at some point – continues as they go three games without a win. Arsenal make light work of Palace, and Tottenham edge out Stoke to go top on goal difference!
Standings: 1st: Tottenham 68. 2nd: Leicester 68. 3rd: Arsenal 61
April 21
Arsenal 3-0 West Brom
The Gunners have not been making up ground, but they take advantage of their game in hand to close the gap. West Brom will have nothing to play for by this point and should be easy pickings at the Emirates.
Standings: 1st: Tottenham 68. 2nd: Leicester 68. 3rd: Arsenal 64
April 24-25
Sunderland 1-2 Arsenal
Leicester 2-0 Swansea City
Tottenham 3-1 West Brom
Two wins in four days for Arsenal gets their title bandwagon rolling. Tottenham complete Albion's miserable week in North London, and Leicester stop the rot with a crucial victory over Swansea.
Standings: 1st: Tottenham 71. 2nd: Leicester 71. 3rd: Arsenal 67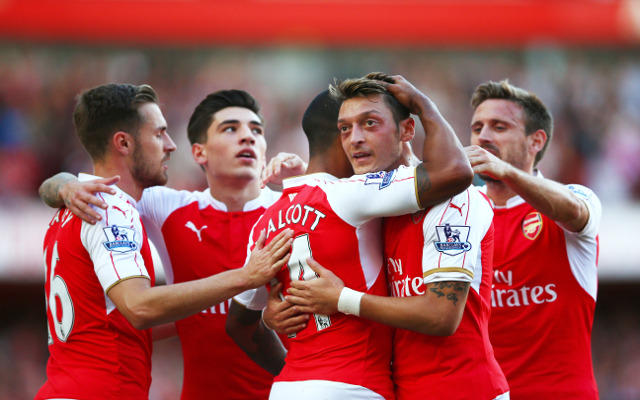 April 30-May 2
Arsenal 3-1 Norwich
Manchester United 0-0 Leicester
Chelsea 2-1 Tottenham
Standings: 1st: Leicester 72. 2nd: Tottenham 71. 3rd: Arsenal 70
Tottenham lose top spot after being beaten by a Chelsea side motivated not to lose their title to their London rivals. Leicester get a good point at Old Trafford, but it is Arsenal who have the momentum.
May 7
Leicester 1-0 Everton
Man City 2-0 Arsenal
Tottenham 1-0 Southampton
Arsenal's title dreams come crashing down at the Etihad as Manchester City send Manuel Pellegrini off in style, and heap pressure on Arsene Wenger as Gooners everywhere curse a massive missed opportunity.
Tottenham pick up a narrow home win, but so do Leicester, who will hope to be playing an Everton outfit who might be distracted by an upcoming FA Cup final. The Foxes are top going into the final day!
Standings: 1st: Leicester 75. 2nd: Tottenham 74. 3rd: Arsenal 70
May 15
Arsenal 4-0 Aston Villa
Chelsea 0-2 Leicester
Newcastle 1-2 Tottenham
Arsenal send Villa down with a bang, but finish in third. Tottenham must better Leicester's result to win the league. The difficulty of their trip to Newcastle will depend on the Magpies' own status at the bottom end of the table. Spurs would beat an already-relegated Newcastle, but might not have it their own way if Rafael Benitez's side needed to win in front of a bouncing St James' Park to stay in the Premier League.
It does not matter, though, because if Leicester reach the final day at the top, the title is their's. Chelsea will roll over for Claudio Ranieri's boys rather than risk handing the title to one of their London rivals.
Standings: 1st: Leicester 78. 2nd: Tottenham 77. 3rd: Arsenal 73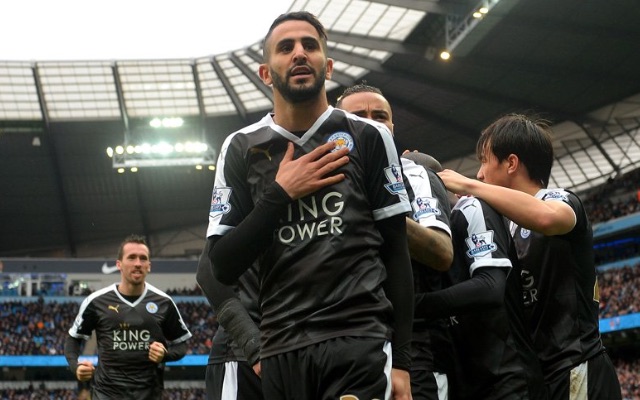 So, we have the Foxes to pip Tottenham to the post on the final day of the season, completing the most unlikely of title triumphs which will go down as one of the greatest achievements in British football.
Jamie Vardy has a party, and so do all the Leicester supporters as they celebrate an unbelievable season in which they prove that miracles can happen. And nobody could say that they didn't deserve it.
SEE ALSO:
Arsenal boss to use £75m transfer budget to extend core players
Top 5 Premier League goal & assist combinations: Tottenham pair head Arsenal rivals & Foxes heroes
Tottenham's hidden gem should not be written off, enigma could be like a new signing this summer