The Guardian's tribute to Johan Cruyff has been somewhat undermined by an incredible gaffe, as the paper have used a photo of his teammate Rob Rensenbrink instead.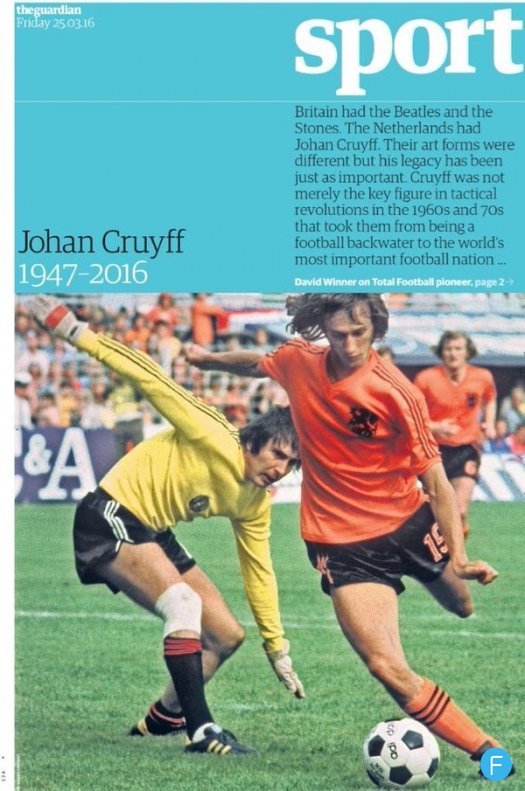 The Netherlands legend passed away on Thursday aged 68 having lost his battle with lung cancer, having been diagnosed with the disease in 2015.
The legendary forward won the Ballon d'Or on three occasions, lifted a trio of consecutive European Cups with Ajax and guided Barcelona to four magical La Liga titles as a coach in the 1990s.
While Cruyff never won the World Cup—becoming one of the greatest players never to do so—he reached the final in 1974 when a Netherlands team playing a revolutionary and imaginative brand of Total Football.
There have been a remarkable and touching array of tributes to Cruyff on Thursday and Friday, but The Guardian's aesthetically impressive cover—featuring a quote from David Winner—has just one tiny error…the player in the photo is Rensenbrink and not Cruyff.
That's Rensenbrink (15) not Cruyff (14), @guardian_sport #doubledutch pic.twitter.com/tAAidy5c1P

— Mick Dennis (@MickDennisReal) March 25, 2016
SEE MORE:
Klopp eyeing Paris Saint-Germain forward & high-profile South American for Liverpool transfer reboot
Johan Cruyff: Dutch master dies; Football icon & Barcelona great loses cancer battle aged 68
Video: Bolivia 2-3 Colombia – Match reports & highlights as Los Cafeteros steal three points
You'd have thought that the fact he's wearing number 15 and not Cruyff's iconic no. 14 might be a giveaway, or the fact that he isn't wearing the captain's armband would prompt one photo sub editor somewhere to raise their concerns.
Seemingly not, and while a fitting tribute to Cruyff it is not, the image certainly embodies the values and spirit of universality of Total Football!