Thor has his hammer. King Arthur had Excalibur. Mesut Ozil's weapons are his boots.
And the Arsenal assist king has unveiled the shiny new pair of Adidas ACE 16+ PureControls that he will be unleashing on England in tonight's international friendly at Berlin's Olympiastadion.
In January, Ozil became the first player in the history of the Premier League to wear laceless boots, and he has shown off his latest set of revolutionary footwear on his official Instagram account.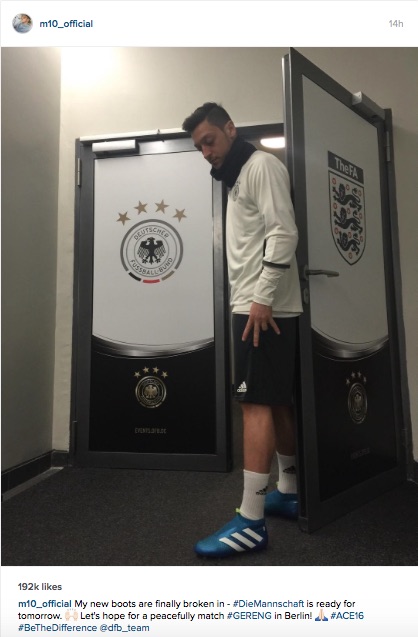 Speaking last November, the 27-year-old revealed the reasons why he prefers to play without laces, suggesting that he is such a touch player that he never struck the ball with them anyway.
"My whole career I have tried to minimise the impact of laces on my strike and ball control," Ozil is quoted by The Telegraph as saying: "I revealed to Adidas in 2014 that in the changing room I knot the laces over and over again and then tuck in the ends – that way they do not interfere with my touch. So when they came to me last year with the laceless boots, it was like they have created my dream product."
Ozil has assisted 18 goals in the Premier League this season – seven more than anybody else in the division. He is chasing Thierry Henry's record of 20 assists in a Premier League campaign.
SEE MORE:
Three exciting ways England could line up v Germany: Attack the way to go for Roy Hodgson
Arsenal great ignores Gunners & includes four Tottenham players in his England Euro 2016 XI
World-class playmaker linked to Arsenal set to miss out on England match