Real Madrid's Luka Modric has called midfielder Casemiro an example for his Los Merengues teammates ahead of their match against Wolfsburg this week.
Real were defeated 2-0 by the Bundesliga outfit in the first leg of their Champions League quarter-final, leaving Zinedine Zidane's side with considerable work to do if they are to turn around the tie and advance to the semi-finals of the continental competition.
According to Modric, Casemiro—who is enjoying a fine campaign—ought to be an example to his teammates and has indicated that the Brazilian can serve as a fine reminder of what can be achieved with hard work.
"Casemiro is having a good time," the Croatian midfielder told the media [as reported by Goal]. "It has to continue.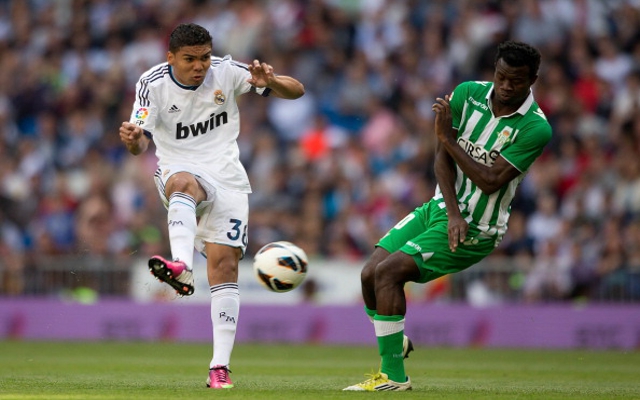 "For me, he's the example for all of us of how hard work and dedication can do key things," Modric continued. "He brings a lot to this team."
Modric's praise appears to be particularly magnanimous considering the fact that Casemiro is ostensibly a rival for the former Tottenham Hotspur man—as well as the likes of Toni Kroos, Mateo Kovacic, Isco and James Rodriguez—for one of the spots in Zidane's midfield
The 24-year-old has featured 19 times in La Liga this season, of which 13 outings have been from the start. While Casemiro has contributed three assists, his key contribution has been defensively, where he's averaged 3.8 tackles per match.
SEE MORE:
Van Gaal's Rashford treatment stuns Man United players, says report
Underperforming Liverpool striker urged to prove his worth and earn a new contract
Sky Sports pundit makes unflattering comparison between Manchester United & Barcelona
The defensive midfielder and Brazil international has previously represented Sao Paulo and FC Porto.