They are the Premier League's leading scorers and have the division's best defensive record this season, but why are Tottenham Hotspur having such a strong campaign? Guest writer Asif Norat delves deeper as he takes a look at the strong spine that is holding together an unlikely title charge at White Hart Lane.
Follow Asif on Twitter @HerreraTekkers
This season has been unpredictable, Leicester are top of the league and the current champions Chelsea are having a disastrous season. But one interesting factor has been Tottenham's rise from top-four challengers to true title contenders who are excellent to watch on and off the ball.
The appointment of Mauricio Pochettinho during the summer of 2014 was the start of a new era and it changed the club from being a top seven side to title challengers. The Argentine has injected a lot of faith into this young side, with the squad being an average age of 25.
Pochettino has worked superbly well with each individual and has built them into a strong and reliable unit. With each player being involved as an important jigsaw piece for the side, the club's spine has truly been fantastic and reliable.
Tottenham's master class under Pochettino has been really down to the squad's fitness and stamina, off the ball non-stop pressing until retrieving the ball back, on the ball they will drain their opponents and hit their opponents from each angle. His style of play truly works under the possession, that's why many of the club's goals aren't through direct play or counter attack.
Tottenham dismantled Manchester United at White Hart Lane, scoring three goals in the space six minutes late in the second half. The North London side have the best attacking and defensive record in the league. Pochettino has placed a clear statement of direction he wants to take this squad and now the players are acting up on it too.
Many title-winning sides have been built around a strong spine and this has been the case at Tottenham, who are still mathematically in the title race. Below, let's look at the superb Spurs spine in more detail.
Hugo Lloris
Every club needs a world class goalkeeper in order to challenge for the title, which Tottenham have in Hugo Lloris. The Frenchman has completed 12 clean sheets this season, an important stat which football fans use to compare one goalkeeper to another.
Lloris has kept Tottenham in the game on many occasions this season, Tottenham fans will be really happy to have the goalkeeper after he was rumoured to leave last summer. It would have been a tough job to replace the captain, who keeps improving year by year.
Lloris stands out more compared to the other goalkeepers, a natural sweeper keeper and a true leader to have in the dressing room. Lloris is Tottenham's captain, plays a big role from the back especially giving orders to his defence too which has resulted very positively.
Hugo Lloris has hit his peak without a doubt, and has already saved Tottenham up to ten points this season.
Toby Alderweireld
Toby Alderweireld has been a solid wall at the heart of Tottenham's defence, the centre-back has already been complimented as the best defender in the Premier League this season. He has played the most minutes from the whole squad this term, clearly showing how important the Belgian international has been during Tottenham's incredible season.
The 27-year-old has also played a key part on the attacking side of the game, scoring the vital goals in the big games against Man Utd, Arsenal, Man City, West Ham and the defender also placed an inch-perfect pass for Dele Alli to chest before volleying it against Everton.
Many still can't believe that the he was only sold for £11.5million by Atletico Madrid, Alderweireld has been a big contributor to Spurs currently having the best defensive record in the league, with just 25 goals conceded all season. A player who is confident on the ball and can distribute it effectively, no wonder the manager really admires how the player turns a defensive moment into a quick attack.
Toby Alderweireld and Tottenham have been a perfect match, a key player for the side in the long run.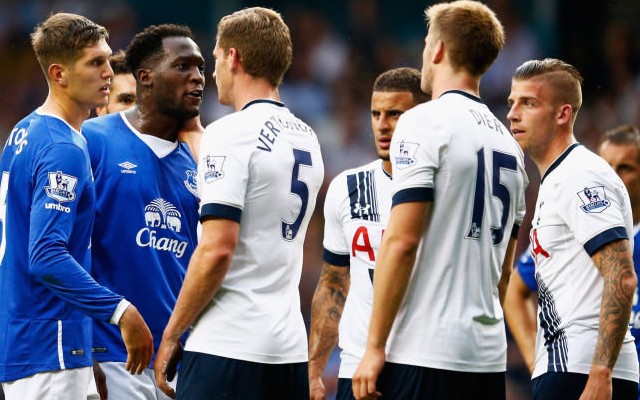 Eric Dier
After making a transfer from Sporting Lisbon in the same summer as Pochettino's arrival, Dier has shown a lot of positive points about himself during his debut season. A young versatile player that has now turned into a key asset in Tottenham's midfield and the club have found themselves a long-term defensive midfielder to protect their defence.
Dier's hard work and energetic performances haven't gone without credit, England manager Roy Hodgson handed him his first call up to the England senior squad back in November 2015. The Englishman has been used in the right-back and centre-back position, Dier has already gained a guaranteed start in the line-up as a defensive midfielder.
Players who play in this role don't receive enough credit, but the player has to cover many duties such as shield the back four, win every ball and start a counter attack at times too. Dier has fixed many defensive issues, the 22-year-old has been a big reason due to Tottenham having the best defensive record in the league this season.
Unsure how Dier was brought by Tottenham for only £4 million, but he is now worth five times the price.
Mousa Dembele
While Tottenham's young English core has been getting all the rightful plaudits, Mousa Dembele's return to form and fitness has arguably been just as important, if not more important, to Spurs success this season.
The 28-year-old Belgian showed signs of ability here and there since joining the North London club in 2012, but this season he has really solidified his place as Tottenham's midfield general.
Dembele's ability to brush off anybody who comes to challenge him brings a stability and balance that Spurs have struggled to find throughout previous campaigns.
Eric Dier gets the most credit for his defensive contributions, but it's Dembele who has the third most tackles in the Premier League this season, averaging 4.5 per match. Dembele's ability to recover the ball from deep, stride forward with it and then lay it off to one of his teammates is key in Mauricio Pochettino's counter pressing system.
Mousa Dembele is Tottenham's immovable object, and he has yet to face an unstoppable force.
Harry Kane
The big question after last season was whether Harry Kane would be a one season wonder or not. The Englishman has shown his natural class, continuing his form from 2014/15 becoming the league's top goal scorer with 22 goals this season and just five games remaining.
Many were quick to judge Kane at the start of the season, the striker ended his six game goal-drought after scoring his first goal of the season against Manchester City.
The 22-year-old has shown that he is more than a goal scorer, works really hard to retrieve the ball back when his side loses it, offers more in the deep areas and plays his role when defending from a set-piece. Kane is clearly showing the rival fans why he is world class, Tottenham will have to do everything to keep on to him.
Another talking point is that; Tottenham seem to reliant on the English forward. No one else in the Spurs side has over ten goals in the league besides Kane, this fact should become a worrying thought in case Kane is out of form or picks up an injury.
Also who would Tottenham rely on to net the goals in, otherwise it would just seem like one man team at the moment.
Harry Kane is on fire at the moment, has scored 36.6% of Tottenham's league goals this season.
What next for Spurs?
With the new Premier League TV deals coming in, the English teams can hold on to their key gems a bit longer until the player wishes to leave for a new challenge. Tottenham have had to sell their important players in the past to bigger clubs such as Gareth Bale, Luka Modric and Dimitar Berbatov, which denied them the chance to progress as a club. But now they have turned into a Premier League giant and no doubt they will be known as a big team in Europe too if the era of Pochettino carries on for some time.
It will be a joyful moment for anyone who is a Spurs fan once they confirm their Champions League place for next season.
Despite no trophy or title this season Tottenham won't be too heartbroken, the club and its fans should think of this year as a successful season as they progress very well as a football club. The success will come very soon for them and Pochettino will be expecting to add some new additions to the current squad for the next campaign.
The competition in the Premier League has improved massively and it's mainly been due to Tottenham.