Arsenal fans have blamed injuries for their failure to win the Premier League title this season.
Because, with Leicester City three points from securing a fairytale triumph, it is their only excuse.
But the excuse is a whopping LIE! Figures taken from Physioroom.com, a database which records every injury reported by Premier League clubs, show that the fourth-placed Gunners are only the 14th most injury-stricken team in the English top flight this season, having suffered 37 separate injuries.
The Mirror have put together a table of the total reported injuries suffered by each club, according to the findings of Physioroom.com, and it is actually Manchester City who should be cursing their luck.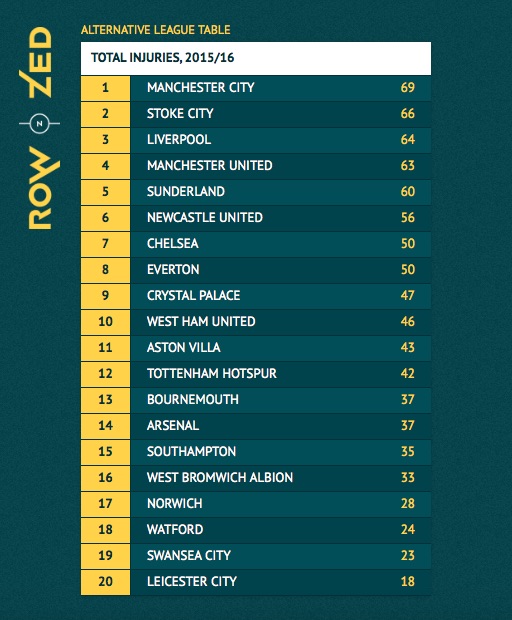 With 69 different reported injuries, it is the Citizens and not Arsenal who should feel that they might be top of the table had it not been for the overpopulation of their treatment room this campaign.
Stoke City have also been hard done by, and Liverpool and Manchester United complete the top four – possibly why they are not in a position to do the same thing in the real Premier League standings.
Nine other teams have had a greater number of injuries than Arsenal, including North London rivals Tottenham Hotspur, who are five points ahead of the Gunners with two games remaining.
Significantly, champions elect Leicester have been the luckiest team with injuries this term. The Foxes physio has only had to write 18 sick notes all year, and that could be the difference in the title race.
So, Arsenal fans…what is your excuse now?
SEE MORE:
Andre Schurrle's latest Instagram post demonstrates why Tottenham transfer would not work out
Opinion: Struggling Arsenal star and Manchester United target would benefit from fresh start
Thierry Henry coming back? Arsenal legend wants to play for genius BPL manager