Cristiano Ronaldo is a fabulous footballer, but he's not much of a team player.
The former Manchester United hero is the main man at Real Madrid. He seems to insist on it! So much so that he almost looks pissed off when one of his fellow Galacticos scores a goal.
Fortunately for Ronny, who missed last night's Champions League semi-final first leg though injury, nobody scored at the Etihad Stadium, as Real were held to a 0-0 draw by Manchester City.
CR7 will no doubt be delighted to discover that, as a consequence of the game ending goalless, he managed to remain the centre of attention.
Naturally, the TV cameras were all over him like a rash. But it was the attention that Ronny gave himself which was most amusing.
Ronaldo spent much of the evening dicking around on his iPhone.
What was he doing that was so important? Checking himself out on Instagram, of course!
Cristiano was spotted taking in a video of himself, which had been posted by Gary Lineker.
The video (which you can see below) showed a smartly-dressed Ronny gesturing towards the fans before the game, giving them a thumbs down – presumably to indicate that he was not feeling 100%.
Take a day off, mate!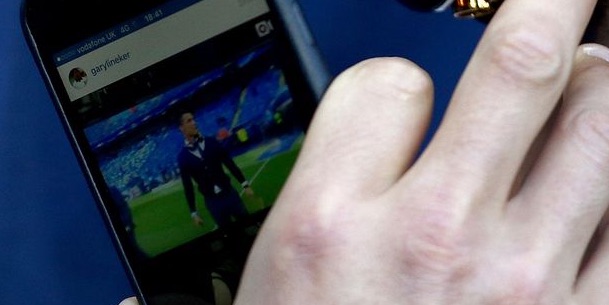 Andy Morris is now on Twitter @AndyMorrisBIC!