Cristiano Ronaldo was busy in the gym on Wednesday as he looks to recover from the hamstring strain which caused him to miss Real Madrid's Champions League clash with Manchester City.
As ESPN reports, the three-time Ballon d'Or winner failed a late fitness test on Tuesday and had to sit out of the semi-final first leg, which was pretty tedious in his absence as the game finished 0-0.
And while working his hamstring in an attempt to be back for next week's second leg at the Bernabeu, the Portuguese took the opportunity to indulge in his second passion after football – showing off his body.
His hamstring might be strained, but there is absolutely nothing wrong with his biceps!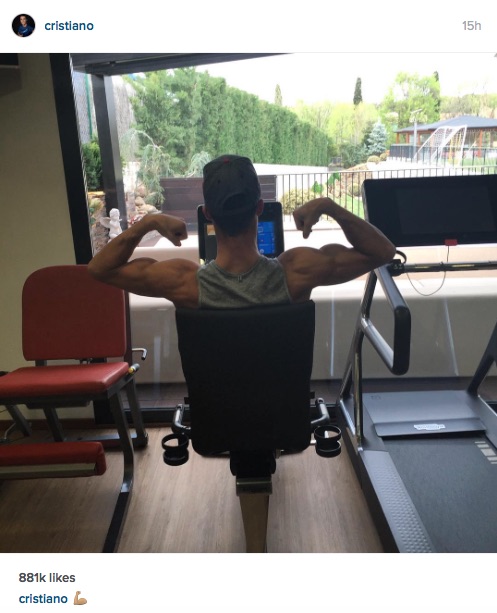 I imagine this is what I look like when I go to the gym. Who am I kidding? I don't go to the gym…
Ronaldo's gun show could be a message for Man City – 'I will be ready and I'm coming for you.'
SEE ALSO:
Cristiano Ronaldo ignores Man City v Real Madrid to look at Cristiano Ronaldo on Instagram
Three things we learnt from Man City-Real Madrid draw: Modric's class, injuries have huge impact
Icon picks dream Real Madrid XI: Only two current stars make the cut & Beckham overlooked