Arsenal's visit of Norwich City tomorrow will be Arsene Wenger's 750th Premier League game in charge.
It might not exactly be a celebration, though. Sky Sports reports that two prominent fan groups have joined forces to co-ordinate a protest against the Frenchman at the Emirates Stadium.
Supporters are being asked to display banners reading: "Time for change. Arsenal is stale – fresh approach needed", as they look to instigate a managerial switch after 12 years without a title.
Wenger is facing the biggest backlash of his 19-year Arsenal reign, with the frustrated Gunners faithful having watched them blow another title race to fall behind Tottenham Hotspur and Leicester City.
What has arguably kept the 66-year-old in the job for this long is that he has always kept them in the Champions League places – they are fourth ahead of their clash with the Canaries on Saturday.
But are the Londoners really in a worse position than they have been throughout Wenger's tenure? This chart shows where they have been placed in the Premier League table after each 50 games of his stay.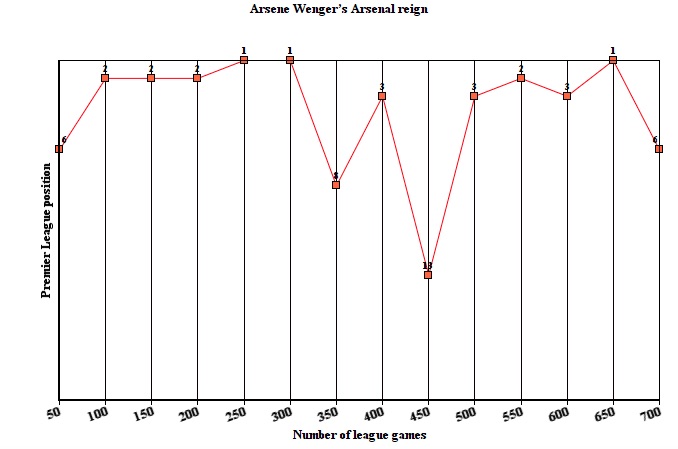 This chart accurately sums up Arsenal's dilemma. There has indeed been a drop off in their average league position for every 50 games of Wenger's reign. Games 350-450 was their leanest time.
But they have largely remained in the top three, and are therefore consistently very close to mounting a serious title challenge. No team has been as regular a member of the top four during Wenger's reign.
Their choice is whether to stick or twist. Manchester United have found to their peril what can happen when the status quo is upset. But are they still likely to win a title again before Wenger's Arsenal?
With the Premier League title race poised to be as open as ever next season, Wenger's fortune may be decided by his next 50 games. That is if the Gunners supporters allow him to make it that far.
SEE MORE:
Arsenal fans won't like what Iwan Roberts has just said, but he's so right
Charlie Coppola: Who is the non-league wonderkid wanted by Chelsea, Arsenal & Manchester United?
Arsenal revert to familiar transfer policy as Wenger plots to fast-track 25-goal striker