Juventus supporter Ivan Centonze was clearly delighted with his side's achievements this season, so much so that he really rubbed it in.
The Bianconeri secured a fifth consecutive Serie A title earlier this week, with Massimiliano Allegri's side putting together a sensational run of form since October to seal the triumph, winning 24 of their last 25 league games to surpass Napoli and move clear at the top of the table.
In turn, it has sparked wild scenes of celebrations in Turin this week, although it has stretched further and taken different forms with Centonze providing a reminder of the players who made it all possible to his friend, Mimmi Stifani, who supports AC Milan.
Having convinced the residents of his friend's apartment to all display large banners on their balconies with each reading a name of the Juve line-up, it was certainly an innovative way to make fun of a rival.
From Gianluigi Buffon to Paulo Dybala, every member of the Juve squad has played an important role for the club this year and they have deservedly sealed their place in the history books with a rare feat of winning five titles in a row.
To his credit, Stifani posed for a picture with his friend in front of the apartment building, as he hopes that eventually his beloved Rossoneri will make a comeback and start competing for the Serie A title sooner rather than later.
Based on their efforts this season, he could be waiting a little while longer as Centonze will hope to continue to see Juve dominating domestically as well as conquering Europe next season as the club goes from strength to strength.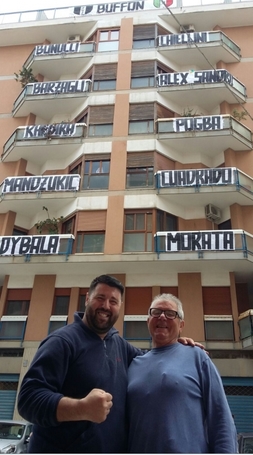 Image courtesy of Tuttosport.