Manchester United would love to have Rio Ferdinand in the heart of their defence for today's encounter with Leicester City, when the Foxes could win the Premier League title.
But the retired Red Devils legend spends most of his time on the celebrity circuit these days. He probably misses football now and again, but his new lifestyle certainly has perks!
Ferdinand got to party with officially the most beautiful woman in India last night at the Variety World Conference Awards. He uploaded this picture to his Instagram account…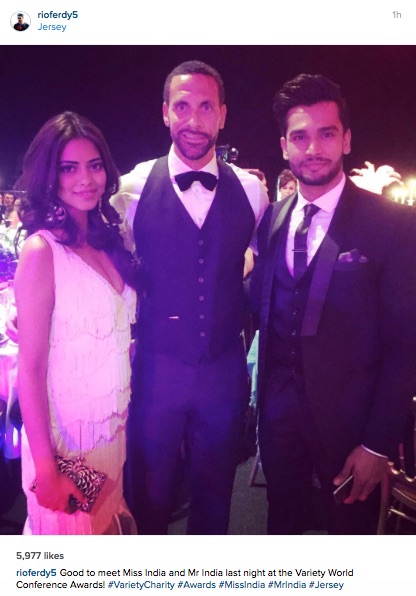 A thorn between two roses springs to mind as Ferdinand, 37, grabbed a snap with the stunning Mrs India, and Mr India, who is not a bad looking bloke himself it must be said!
Just kidding, Rio! We are big fans at CaughtOffside. Beats marking Shinji Okazaki, eh?
SEE MORE:
Manchester United watch world-class hitman; South American star being considered by LVG
Man United ready to splash cash on 31-goal superstar whose price has increased by £22m in 12 months
Ryan Giggs: Marriage in turmoil as Man United's superstar love rat gets caught chatting up waitress