What is Small Striker Syndrome? We let @TheSilvaLining explain.
BY JORDAN-LUKE MCDONALD
Take Wilfried Bony, Loic Remy or Christian Benteke. What about Andy Carroll, Demba Ba or Roberto Soldado? They have all suffered from what I dub the Small Striker Syndrome. Isn't it ironic that when a striker moves from being a big player at a small club, they more often than not become a small player at a big club?
Sure, they demonstrated their potential for a smaller club. But following their transfer to a more prestigious outfit, they can stick out like a sore thumb and they often falter at some stage. Having been a big fish in a small pond, they then become involved with bigger fish in a bigger pond.
Usually these forwards are a square peg in a round hole, struggling to accustom themselves to both the on-field tactics and demands of their new club.
Unless in exceptional circumstances, the general trend is that players of this ilk tend to be signed as squad players. This is probably even more relevant with strikers, as the conventionally 'bigger' clubs will already tend to have an established first choice forward.
The outcome is less playing time than necessary, which then initiates a perpetual cycle; being of a lower quality than the existing striker results in less minutes on field, which leads to less confidence, resulting in a seemingly even lower quality. It becomes a downward spiral of decline.
Perhaps the larger issue at hand is the money involved in such transactions. Typically, these types of players tend to have a strong breakthrough season in which they begin to accumulate transfer rumours linking them with bigger clubs.
It is then that media speculation enhances a particular player's valuation, often escalating dramatically in an attempt to fend off interest.
Or is it an attempt to do that? Whilst the more high profile clubs tend to have pulling power in terms of transfers – Champions League football, higher wages and so on – smaller clubs are well aware that they are in control of financial negotiations, particularly if the player in question has an extensive period remaining on their contracts. They will only sell if the price is right.
This can result in prices being increased significantly, which in itself can undermine the player's confidence as they feel a pressure to perform because of their fee. But then they may also feel a pressure to perform because a bigger club has demonstrated an interest. And, as would come naturally with negotiations that escalate a player's value, the negotiations themselves can take much longer than usual, resulting in further pressure on a player.
The perfect case study of this sequence is Wilfried Bony. He scored 9 goals in 20 appearances in the first half of the season before his January departure. In 2013/14, he netted an impressive 16 league goals in 34 appearances. 27 goals in 50 appearances in all competitions. Overall he managed 25 league goals in 54 league appearances. He was the Premier League's top goalscorer in the 2014 calendar year, yet he has failed to replicate such scintillating form since his arrival, unable to justify his £30 million transfer fee. It would have been understandable to think that Bony could have been worth such an extensive investment; 30 in 75 games for Sparta Prague, 53 in 73 for Vitesse and 36 in 72 for Swansea meant that you would have had to be naïve to argue otherwise. On average, at that point, Bony had a goals-to-game ratio of 0.54 at club level in all competitions. And that was taking into account substitute appearances. However, record at City of 10 goals in 32 appearances – 0.31 goals per games – has seen his club career ratio drop to 0.51.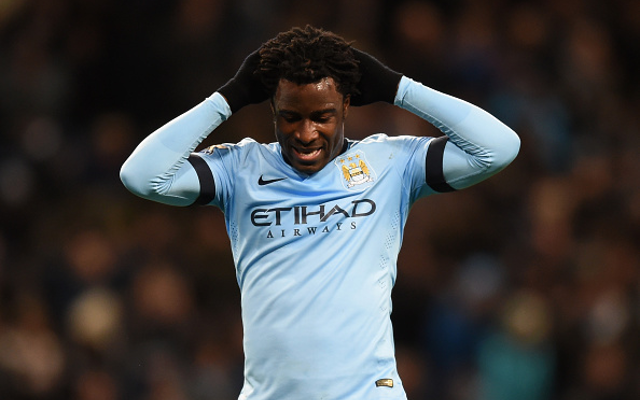 But Bony clearly epitomises all of my aforementioned statements. His new habitat at the Etihad Stadium has seen Bony surrounded by metaphorically bigger, although physically smaller, fish and he genuinely looks out of place in the City squad. His large frame looks out of place amongst the likes of the more diminutive attacking players David Silva, Kevin De Bruyne, Jesus Navas, Raheem Sterling and Sergio Aguero. The latter of those names is the most obvious standout striker in the City squad and, perhaps, in English football. With that in mind, Bony has struggled for a place in the starting lineup; he has made just 19 starts in all competitions under Manuel Pellegrini, with an additional 25 substitute appearances constituting a total of 44 outings for the Blues.
His goal return has been poor in a sky blue shirt, with City fans bemoaning his lack of mobility, pace and work ethic. They have acknowledged his seeming inability to adapt to the fast-paced tactics of Manuel Pellegrini, yet Bony himself made it fairly obvious back in January 2014 what type of striker he is.
"I always tell my friends – Roland Lamah, (Wayne) Routledge, Jonathan de Guzman – if you have time to put in a cross do it because you know I am good with my head. You don't have to be in the box, give me the ball," he said in a Sportsmail interview at the time.
"If I head the ball one time, it can be a goal. I try to be there in the right place. If I am not there, it is my mistake."
City's first choice tactic almost always avoids looping, airborne crosses, instead opting for close-quarter passing and interchange player amongst players. The square peg in a round hole concept never rang truer.
But perhaps the most obvious of my earlier principles that burdens the Ivorian forward is his cost. Somewhere floating around the £30 million mark, Bony is the most expensive African footballer of all time. City signed Bony in the January transfer window of the 2014/15 season, which naturally in itself inflates market valuations. But the then Swansea manager Garry Monk insisted that it would take such an 'astronomical' fee for the Welsh outfit to consider selling.
Why? Because they had already attempted to fend off interest from Anfield outfit Liverpool when Bony signed a one-year contract extension just weeks before his transfer to City that removed his £19 million buyout clause, knowing that they would then be able to hold out for a significantly larger fee. Maybe that's what Monk meant when he described the renewal as 'great news for the club'.