In an intimate interview with beIN Sports, Xavi Hernandez has paid his own special tribute to fallen great Johan Cruyff.
The deep-lying playmaker didn't hesitate to give the Dutch master—who passed away from cancer at the age of 68 in March—immense credit for the construction of the modern Barcelona.
"Cruyff is the father of everything," Xavi began, "the patriarch of this philosophy, the DNA of Barca."
Xavi: "Cruyff es el padre de todo, el patriarca de esta filosofía, del ADN Barça" #UniversoValdano pic.twitter.com/mV8Joa1mlo

— beIN SPORTS ESPAÑA (@beINSPORTSes) May 1, 2016
The iconic forward reached the final of the 1974 World Cup with the Netherlands as they were defeated by West Gemany.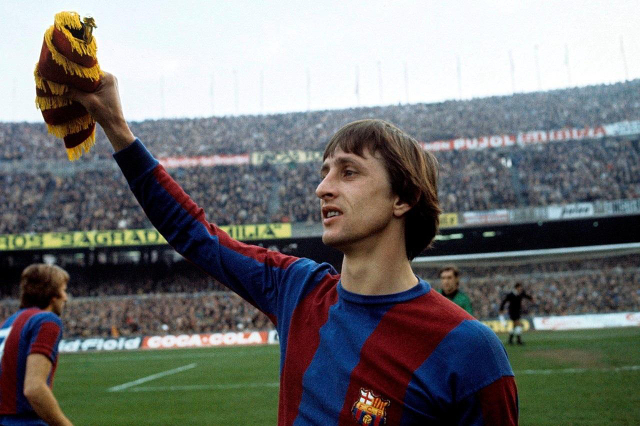 Cruyff also played a key role in the building of the modern Ajax and Barcelona—a fact attested to by Xavi.
He won a trio of European Cups with Ajax in the 1970s, and served Barca with distinction as both a player and a coach.
The eight-time Eredivisie winner won the Spanish title with Barca in 1974, and as a coach, cultivated one of the best sides ever seen in Catalonia.
SEE MORE:
Opinion: Even kinky Van Gaal's 'only sex' defence can't save Manchester United disgrace from ban
Legendary playmaker reckons that Barcelona had La Liga won when they met Real Madrid
Luis Enrique snaps back sarcastically at media questions as Barcelona fail to win 8-0
Cruyff's dream team won four consecutive Spanish titles in the early 1990s as well as the European Cup in 1992.
He left the club in 1996, while Xavi was still in the club's youth ranks.
Follow La Liga Insider on Twitter