Former England skipper David Beckham turns 41 today. Forty-one. Let that sink in for a second.
The Manchester United legend turned British celebrity icon has many famous friends. At CaughtOffside, we we surprised to learn that on-loan Chelsea forward Alexandre Pato is apparently one of them.
The Brazilian forward played briefly with Beckham during the midfielder's two short-term loan spells at AC Milan in 2009 and 2010, and they seemingly became close enough to form a lasting bond.
Pato sent a birthday message to Beckham on Instagram, to which the retired footballer replied.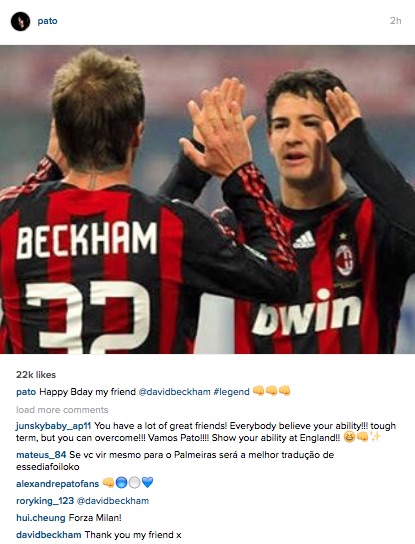 I suppose a striker of Pato's ilk will always remember their friendship with Beckham very fondly. The service would never have been so good. And Pato actually used to play football, back then.
SEE MORE:
Chelsea & Tottenham combined XI: One London side is lucky to only lose 7-4
Chelsea coach shows remarkable arrogance as he questions fearful Tottenham's history
Small Striker Syndrome is very real, Chelsea, Liverpool & Man City men have all shown symptoms