Chelsea will hope to put and end to Tottenham Hotspur's Premier League title dreams when second-place Spurs travel to Stamford Bridge tonight.
The balance of power has shifted in London this season. Tottenham have mounted a challenge while the Blues have endured a disastrous championship defence.
And what Mauricio Pochettino has done with a young and hungry squad while Chelsea have failed to bring any talent through of note has griped Blues fans.
Chelsea's Under-18s have won four of the last five FA Youth Cups, including this season's and the two before that, and reached the final twice more since 2010.
But this graphic from Sky Sports shows just how poor they have been went it comes to progressing the obvious talent in their junior setup into the first team.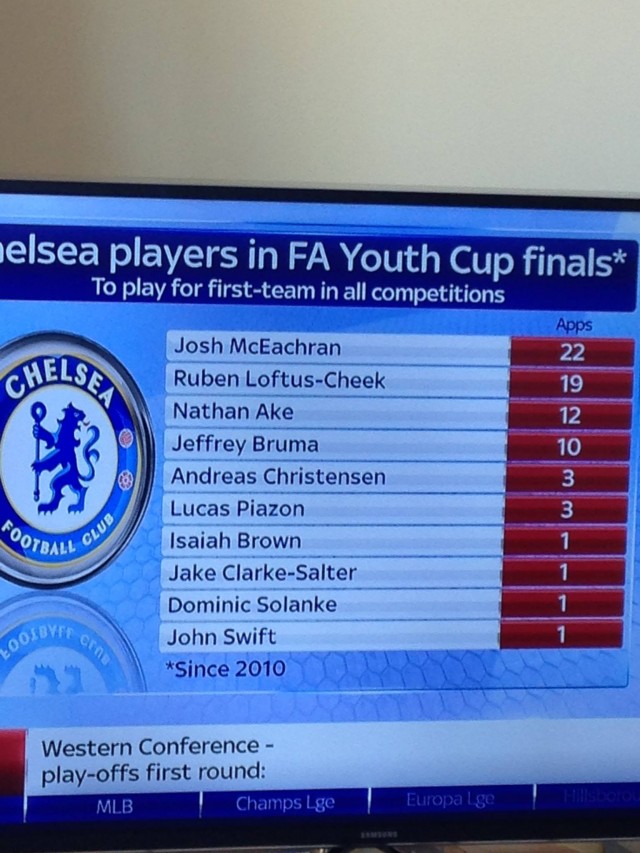 The players to have featured in any of those six FA Youth Cup finals have only racked up 73 senior Chelsea appearances between them, and none have established themselves as first-team regulars.
All but Josh McEachran and Jeffrey Bruma remain at the club, but most have been lost in their loan system, with the path to recognition blocked by some ill-advised signings.
Ruben Loftus-Cheek has recently enjoyed a run in the team, but Chelsea compare incredibly poorly to their capital rivals when it comes to the development of youngsters.
Harry Kane alone has more senior Tottenham appearances than all of the Chelsea youngsters listed above combined with 124, and Ryan Mason only six less with 67 games.
Tom Carroll, Nabil Bentaleb, Danny Rose and Kyle Walker have also played prominent roles for Spurs over the last 18 months – the latter two were signed from elsewhere, but were nurtured in Tottenham's academy.
In total, Tottenham have given out 201 appearances to players who have come through their academy this season. Chelsea have only featured their homegrown talent 29 times.
Which is why, regardless of if Chelsea do indeed put the final nail in the title hopes of their local rivals this evening, Tottenham are still better placed to have the last laugh.
SEE MORE:
Chelsea & Tottenham combined XI: One London side is lucky to only lose 7-4
Chelsea coach shows remarkable arrogance as he questions fearful Tottenham's history
Chelsea players could get their way after controversial statements over title race