Anfield is one of world football's finest theatres, while residents Liverpool FC are one of just five clubs who can boast about being champions of Europe on at least five separate occasions.
Therefore, it is no surprise that there has been plenty of midweek magic on Merseyside down the years.
As we prepare for Thursday evening's Europa League showdown with Villarreal, we pick our top five best European nights at Anfield ever.
Yes, we know we've missed out some belters!
5. Liverpool 3-1 Olympiakos, Champions League group stage (Wednesday, December 8, 2004)
This game is often overhyped as Anfield's greatest ever Euro night – largely due to what happened later that season, but also as a consequence of Sky Sports using Steven Gerrard's decisive goal, paired with Andy Gray's screechy commentary, as powerful propaganda for many years.
Nevertheless, we cannot pretend that this game – and the atmosphere at Anfield that night – was not simply incredible, because it was.
Having lost the reverse fixture 1-0 in Greece, Liverpool needed to beat Olympiakos on the night and secure the upper hand in their head-to-head in order to sneak through to the knockout rounds.
A 26th-minute Rivaldo strike fired the visitors ahead, leaving Liverpool needing three, due to away goals.
Florent Sinama-Pongolle hit back early in the second half, but the Greek defence stood firm until local lad Neil Mellor scored his fifth of six career Liverpool goals with a thumping strike from long range.
That was unquestionably the highlight of Mellor's career, but it was shoved into the shadows five minutes later when Gerrard hammered home from distance to complete the job and indirectly earn Mr Gray a sizeable pay-rise, no doubt.
4. Liverpool 4-3 Dortmund, Europa League quarter-final second leg (Thursday, April 14, 2016)
This one is still so fresh in the memory, but there is no doubt that it deserves to be mentioned alongside Liverpool's most legendary nights at Anfield.
Facing Dortmund – widely regarded the best team in the competition, if not one of the best on the planet – the Reds looked down and out on more than one occasion.
The German giants, who had appeared to play within themselves in the first leg, stormed out of the blocks and were 2-0 win within less than 10 minutes of the second.
Needing a three-goal swing, Liverpool's task looked impossible, but Anfield stayed loyal and Divock Origi provided hope with a goal shortly after half time.
Marco Reus restored Dortmund's 2.5-goal lead just before the hour, but – ridiculously, at the time – that failed to destroy the belief.
And that bold belief was justified, thanks to goals from Philippe Coutinho, Mamadou Sakho and a stoppage-time winner from Dejan Lovren.
The atmosphere inside Anfield that night was added to by the visiting Dortmund fans, who joined in to increase the volume of You'll Never Walk Alone before kick-off. Their love for one of football's most famous anthems was not all that united both sets of fans, though. Jurgen Klopp did his bit, too.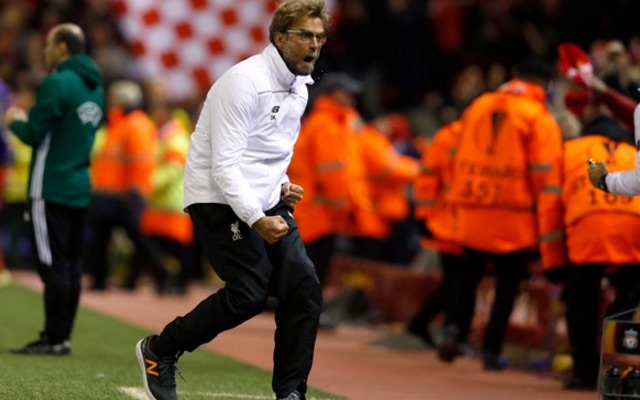 SEE ALSO: Villarreal stars ought to be saluted for brilliant gesture before Anfield trip
3. Liverpool 1-0 Barcelona, UEFA Cup semi-final second leg (Thursday, April 19, 2001)
When people think of the 2001 UEFA Cup, they struggle to look beyond Liverpool's 5-4 final win over Alaves. That's understandable. After all, how many nine-goal finals do you get?
However, what happened in the semis was arguably just as impressive from a Reds perspective.
Liverpool managed to shut-out the mighty Barcelona for three hours in the last four – two clean sheets for Sander Westerveld against a team that featured the likes of Marc Overmars, Rivaldo and Patrick Kluivert. Luis Enrique, Pep Guardiola, Carles Puyol and a very young Xavi also played!
After a scoreless draw at the Camp Nou, Liverpool had no away goal to defend. This made their task very tough, but that famous back four of Westerveld, Markus Babbel, Stephane Henchoz, Sami Hyypia and Jamie Carragher withstood all that was thrown at them.
And penalty kick from 36-year-old Gary McAllister – scored against a teenage Pepe Reina just before half time – gave Liverpool a 1-0 aggregate victory that sparked scenes of more Merseyside magic.
2. Liverpool 1-0 Chelsea, Champions League semi-final second leg (Tuesday, May 5, 2005)
In the five seasons between 2004 and 2009, Liverpool and Chelsea met 24 times in all competitions, including 10 Champions League encounters.
This created a huge rivalry between one of England's oldest giants and the country's newest superpower, fuelled by Roman Abramovich's millions.
The beginning of this rivalry was full of controversy as – on Tuesday, May 5, 2005 – Liverpool beat the Blues 1-0 on aggregate courtesy of Luis Garcia's ghost goal.
Garcia scored – so say the record books – after just four minutes of the second leg, leaving the game on a knife-edge for the remainder.
Chelsea, who went on the win the Premier League with a record-95 points that season, threw everything at the Reds, looking for an equaliser that would have sent them through on away goals.
However, Liverpool – with the unfair advantage of a 12th man – something Chelsea lacked at a comparatively lifeless Stamford Bridge in the first leg – held on to book their legendary date with AC Milan in Istanbul.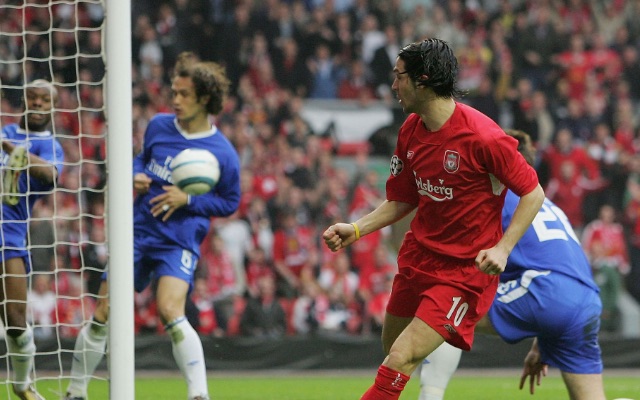 1. Liverpool 3-2 Bruges, UEFA Cup final first leg (Wednesday, April 28, 1976)
As well as their five European Cups, Liverpool have also won the UEFA Cup three times.
Their last triumph came courtesy of that aforementioned 5-4 victory over Alaves in 2001 – a final in which the Reds twice squandered a two-goal lead, before securing victory in extra time (against nine men).
However, in 1976, it was Liverpool who found themselves two down in the final, as Bruges struck twice inside 12 minutes at Anfield, leaving the Reds with a huge task on their hands.
At the interval, Bob Paisely made a substitution that did not go down well at the time. Striker John Toshack was withdrawn and midfielder Jimmy Case entered the fray.
That tactical switch has since gone down in history as one of the best decisions ever made by a manager, because three goals in six second-half minutes turned the tie around, before a 1-1 draw in Belgium sealed Paisely's first major trophy as Reds boss – he went on to win three European Cups, three League Cups and saw Liverpool crowned champions of England six times.
Liverpool's 3-2 win over Bruges was their first big-time European comeback at Anfield. It arguably laid down the blueprint for many of the great events which have unfolded on Merseyside since.
SEE MORE:
Rafa Benitez fights the tears as classy Newcastle fans sing YNWA five days after Hillsborough justice
Arsenal injury curse NOT real! Stats show Spurs, Liverpool, Chelsea AND Man United have all had it worse
£140,000-a-week Liverpool outcast on Man United transfer shortlist and set for pay-rise
Follow @robsummerscales on Twitter.