England fans are storming Twitter to react to an England Euro 2016 squad list, which has supposedly be leaked by an FA insider.
A screenshot allegedly taken from an unpublished article on the FA website shows a 23-man party, including some notable omissions.
Theo Walcott is not even named among the back-ups, while Jack Wilshere is the only Arsenal player to feature.
Meanwhile, Danny Rose will apparently miss out, despite being including in the PFA Team of the Year. What's more remarkable is that his replacement looks like being Manchester United's Luke Shaw, who has been out injured since October.
Although Rose is out, Tottenham Hotspur do have three players in the 23 – Eric Dier, Dele Alli and Harry Kane.
Liverpool have the most players. Daniel Sturridge, Adam Lallana, James Milner and Jordan Henderson all get in, as does Nathaniel Clyne, although his name is spelled incorrectly.
Leaked England Euro 2016 squad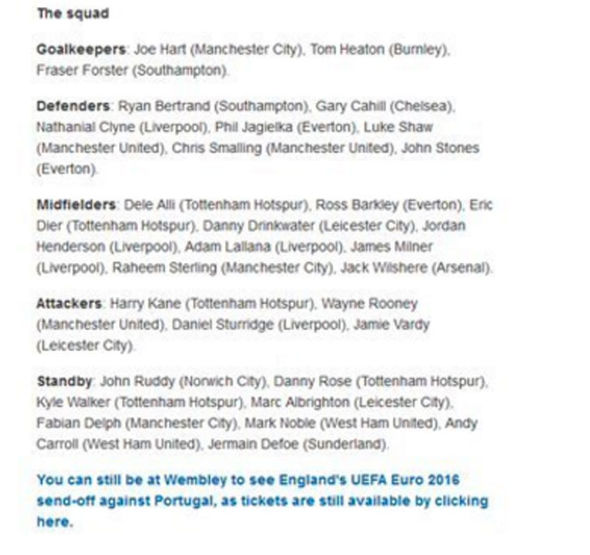 SEE ALSO:
Jose Enrique girlfriend Amy Jaine – Meet hot WAG who won't give up on him, even though Liverpool have!
CaughtOffside sack writer Bernard Thompson – Dismissed after unfair abuse of Arsenal goalkeeper
Arsenal poised to make John Terry transfer offer – Chelsea skipper to reject Gunners and fellow Prem giants
If that England squad is correct then Danny Rose not getting selected is a joke

— Sam Wright (@Sammy_J_Wright) May 9, 2016
If there is truth behind these England squad rumours it's a fucking joke. How the fuck can Wilshere even be considered

— Harry Giggins (@GigginsHarry) May 9, 2016
Hope the leaked England squad is untrue. Shit squad with Shaw, Milner and Henderson in it. Scandalous.

— Wenger's Zipper (@IamASYRAFK) May 9, 2016
If there's any truth to the rumour, Shaw been Included In the England squad. He can fuck right off! Imagine he gets injured?

— Karl (@Karlmac63) May 9, 2016
Looks like somebody at The @FA is in trouble, accidentally publishing the England squad.

Wilshere IN, Welbeck OUT. pic.twitter.com/eRmvjNdPUl

— Jonny Gabriel (@JonnyGabriel) May 9, 2016
Follow @AndyMorrisBIC on Twitter.