The prize money set to be awarded to all 20 Premier League clubs after this season promises to pave the way for another summer of heavy spending.
Aside from the additional benefits that include participation in Europe, match day revenues, commercial incomes, sponsorship and global fan bases which will add substantial amounts in their own right, the figures presented below show the minimum amount of money clubs will be raking in this summer.
Made up of TV rights, with all clubs receiving an equal share of 50 per cent of the domestic pot and an equal share of 100 per cent of the pot from overseas, along with merit money which is determined by the final positioning in the table along with facility fees for matches shown on TV, many clubs in the top half are on the cusp of a base mark of £100m.
The predicted prize money for each Premier League club is as follows, as provided by TotalSportek.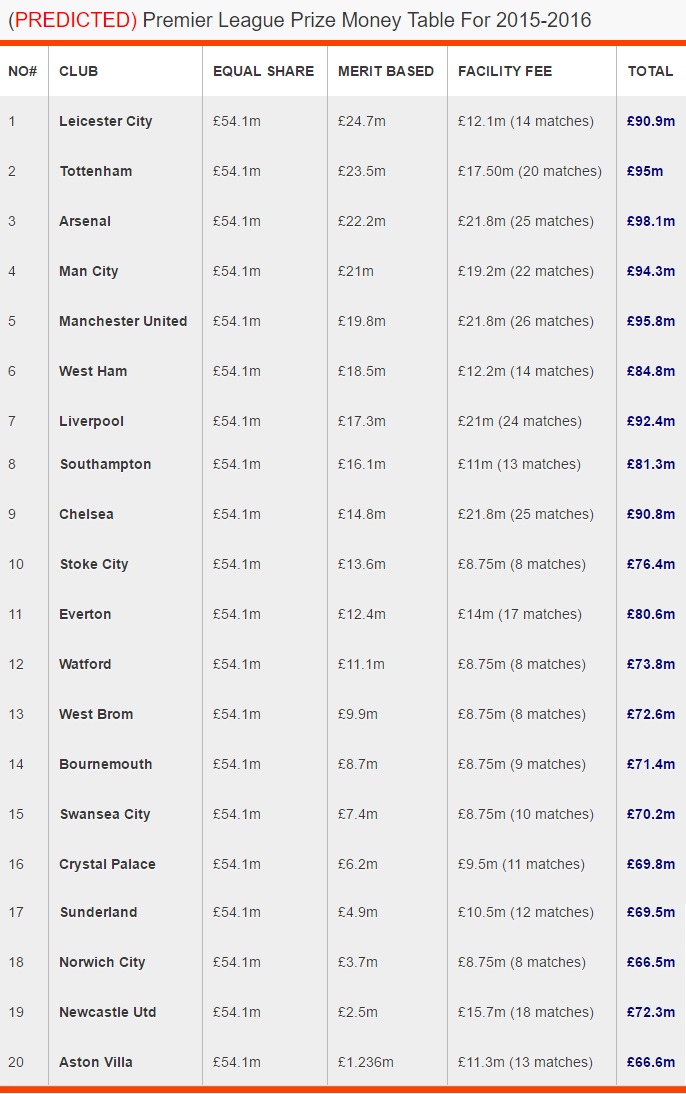 For some of the top clubs, the difference is a matter of a couple of million pounds compared to last year's prize money, but there are plenty of worse things in football than a few extra million pounds in their pockets.
As for the likes of champions Leicester City who could enjoy a rough jump up of £20m, it will be a big deal and gives them more financial power compared to previous years.
Ultimately, what these figures show is the level of money involved in the Premier League for merely participating in it, and it should result in clubs up and down the country strengthening ahead of next season.
That doesn't necessarily mean spending either, as using Leicester as an example, it will contribute to their ability to tie down their top players to improved deals in order to prevent the bigger clubs from snatching them away.
The Premier League as a whole spent over £1b in the two 2015 transfer windows, and with new TV deals coming into force and added revenues from around the world, the level of spending appears to be going in one direction.