Here is the latest twist in the Jose Mourinho to Manchester United saga – Tottenham Hotspur manager Mauricio Pochettino has been spotted having lunch with Sir Alex Ferguson.
The pair were snapped together coming out of a restaurant in Mayfair this afternoon, with Ferguson's arm around the Argentine as though they had become pretty well acquainted.
SEE MORE: Jose Mourinho-loyalist expected to swap Chelsea for Man United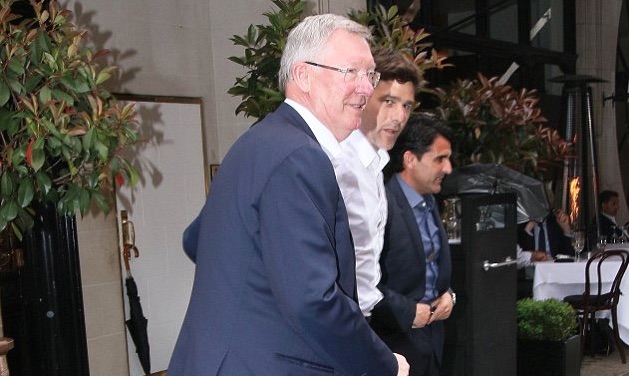 Pochettino made a hasty exit on foot, while Ferguson was shepherded into a car. But was this just an innocent meeting of master tacticians, or something of more substance?
The Spurs boss has been linked with the United after guiding Tottenham to a probable finish of second in the Premier League this season, with Ferguson a self-confessed admirer.
The legendary Red Devils manager, who remains a director at Old Trafford, is said to have reservations over Mourinho, who is the favourite to replace Louis van Gaal in the summer.
Could he be acting on behalf of United while dining with Pochettino? Or, equally intriguingly, could this be a hint to the board of the direction which Fergie thinks they should head?
If this was anything official, it would have happened in secret, and the shrewd Pochettino knows that a public meeting of this kind strengthens his negotiating position with Tottenham.
The 44-year-old has said that he has verbally agreed a new contract with Spurs, and these pictures might force chairman Daniel Levy's hand into bowing down to Pochettino's demands.
Recent reports have suggested that United may ask Mourinho to wait a year and honour the final year of Van Gaal's contract. But could a Ferguson-endorsed Pochettino come into the reckoning?
SEE ALSO:
Video: West Ham v Man United KO delayed as overexcited Hammers fans ATTACK Red Devils coach
Man United ready to grab Premier League's best player after missing out on Hummels and Renato
Danny Welbeck injury: Arsenal forward doubt for Euro 2016, Man United kid should take his place