Tonight's farewell party at the Boleyn Ground has been delayed by 45 minutes after overexcited West Ham United supporters allegedly attacked Manchester United's team coach.
United's coach was hemmed in on infamous Green Street by Hammers fans, of whom there were thousands as they prepare for the last ever match at Upton Park, on their way to the ground.
This video on Instagram shows glass bottles being thrown at and damaging the United coach. Obviously emotions are running high, but there is no reason for this behaviour.
And this picture from Twitter shows what seems like a hostile exchange between the police and fans.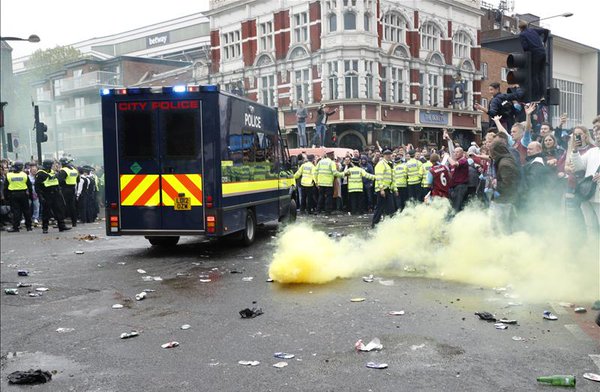 The game, which has massive implications in the race for European qualification from the Premier League, will now kick off at 8.30pm, having originally been scheduled for 7.45pm.
United arrived an hour later than scheduled, and their officials reportedly immediately demanded that they had the same amount of preparation time that they would for any other match.
The Red Devils were late arriving for their clash with Tottenham Hotspur last month and lost 3-0. Clearly they are determined not to have an excuse for if the same thing happens again.
Whoever arranges United's pre-match travel obviously has little experience with London commuting, although the above pictures seem to suggest that it was not entirely their own fault.
SEE MORE:
Danny Welbeck injury: Arsenal forward doubt for Euro 2016, Man United kid should take his place
West Ham coach makes bizarre comments ahead of Manchester United showdown
Man United ready to grab Premier League's best player after missing out on Hummels and Renato