The release of new Manchester United away kit – featuring a bold color blue – has been met with some mixed feelings, but the endorsement of one player in particular will almost guarantee that it starts flying out of the stores.
David Beckham has given the blue kit his thumbs up, as he recently took to Instagram and showed his 22.6 million followers a brand-new customized Man United kit that he received in the mail.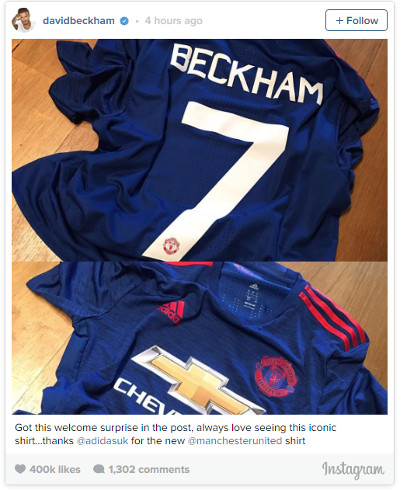 The Red Devils set sales records after the release of their 2015-16 kit, but the 'David Beckham bump' might be enough to shatter even those high marks.
Man United fielded a blue shirts several times during his legendary days with the club, as well as in his stints with Paris Saint-Germain and LA Galaxy.
Beckham is now working on bringing a football franchise of his own design to Miami, Florida and is poised to have his team secured once stadium rights are secured. The team is expected to join MLS as an expansion team.
Follow Jonathan Machlin on Twitter @jtmlovessports
SEE MORE:
Kelechi Iheanacho discusses comparisons with Man United's Marcus Rashford
Journalist drops Liverpool transfer bombshell
West Ham to offer £25m for Prem striker: Vardy named