For most Manchester United, Old Trafford is a amazing mythical place full of rainbows and marshmallow-like dreams.
Because, let's face it, the majority of this world's billions of Red Devils supporters will never actually go to a game in their lives.
That doesn't stop them sharing ill-informed info about their beloved club on Twitter though.
Not one bit!
United are currently a club in limbo.
Will Louis van Gaal leave this summer?
If so, will he replaced by Jose Mourinho?
According to many online United supporters, Mourinho's name was sung by real-life supporters during the first half of this evening's Premier League game with Bournemouth…
Follow @robsummerscales on Twitter.


One internet fan even pretended to be at the match…

It soon became clear that they were very wrong.
Not only were they wrong about the content of the chant, the truth is that Man United fans weren't even singing!
In fact, it was the vocal Bournemouth fans singing about the Special One they already have, in manager Eddie Howe.
AWKWARD!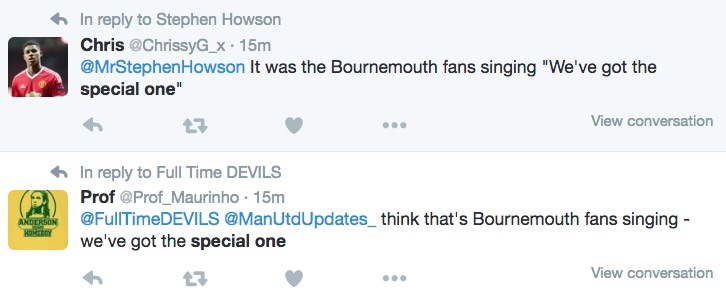 SEE ALSO: Man United could break Premier League record tonight