Alberto Moreno may want to stay away from the internet this morning.
The Liverpool full-back is being absolutely slated from all corners after his role in last night's 3-1 Europa League final defeat, with the Spaniard culpable for two of Sevilla's goals.
SEE MORE: Sevilla 3-1 Liverpool: Reds miss out on Champions League after second-half collapse
As the Daily Mail reports, Reds icons-turned-pundits Mark Lawrenson, Steve McManaman and Michael Owen have all lambasted Moreno for his "atrocious" defending in Basel.
And the punishment does not stop there. Somebody – possibly an aggrieved Liverpool fan or a simply a meddlesome neutral – has given Moreno's Wikipedia page an hilarious edit.
The doctored version jokes that the former Sevilla player rejoined his boyhood club, from whom he signed for Liverpool in 2014, for the day of the final and scored two goals!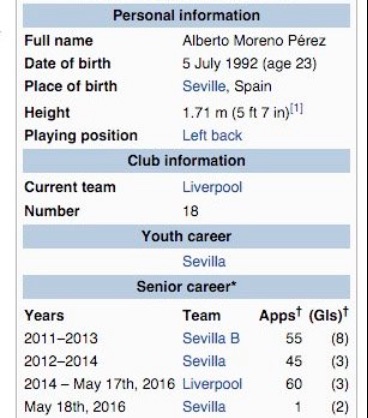 Some Reds supporters may be hoping that, after last night's performance, Moreno's Wikipedia entry is soon officially edited to announce that he is no longer a Liverpool player.
SEE ALSO:
Alberto Moreno: Liverpool legend tells Klopp to 'sign a f**king left back'
Liverpool transfer news: Top three targets won't change after missing out on Champions League
Video: Liverpool & Sevilla fans in vicious brawl ahead of Europa League final