Is this Roy Hodgson's secret plan to win Euro 2016?
A daring prankster snuck into the England camp wearing full kit and tried to join in training!
Harry Peak, 18, had been invited to watch yesterday's training session – the first since the squad for Euro 2016 had gathered together – at St George's Park with his father, a Club Wembley member.
He invaded the pitch and was pictured kicking a ball, claiming that it was a "moment of frustration" after failing to get the autographs of any of the players following a nine-hour journey from Devon.
This snap captures the moment perfectly, with bemused players Danny Drinkwater, Danny Rose and Ross Barkley looking on, before England team physio Gary Lewin escorted him off the field.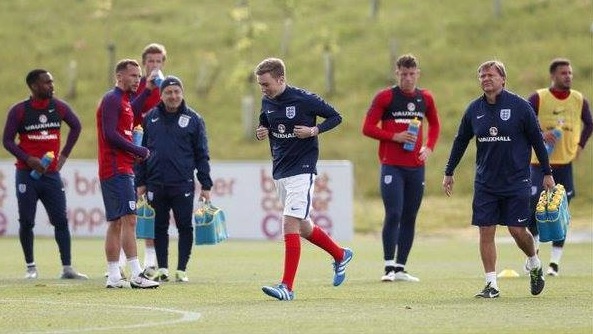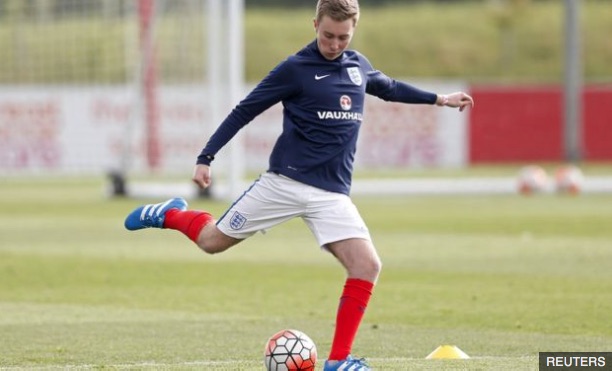 "We were left waiting for around three hours and then when we got to watch the players we were informed there wouldn't be any autographs or photos after the training," Peak told BBC Sport.
"I was absolutely gutted. It was a frustrated spur of the moment decision. I had a rush of adrenaline, I ran on the pitch as I thought it was the only time I'd get to meet the players."
As BBC Sport reports, Peak claimed that he is "not a prankster", but the grin on his face tells us otherwise! An 18-year-old lad does go to England training in full kit unless he has mischief planned!
The Football Association said his behaviour was "unacceptable" and are considering "appropriate action", according to BBC Sport. But Roy Hodgson may want to offer the kid a reprieve…
His squad is currently depleted because of Manchester United and Liverpool's cup commitments, so he could do with every able body he can get. Peak has as much right to be there as Fabian Delph, anyway.
Follow @JoeFish08 on Twitter
SEE MORE:
Opinion: Roy Hodgson gamble and disappointing snub in provisional England squad
Twitter: England stars and fans react as Roy Hodgson announces provisional squad for Euro 2016
England's Euro 2016 squad: Our 23 for France with help from YOUR Twitter votes – NO Arsenal stars