Arsenal have topped the Premier League's 'central income payments' for the 2015/16 season, with champions Leicester City not even in the top three.
The Gunners had to settle for second place in the final standings in a disappointing season in which they were expected to end their wait for a title given the struggles of their rivals.
However, Claudio Ranieri's side showed the level of consistency that they were unable to reach, and rightfully sealed their first Premier League title in a remarkable year for the Foxes on and off the pitch.
While it won't matter to them in the grand scheme of things too much given the increases in revenue that they will now enjoy with participation in the Champions League, it is a surprise to see Leicester in fifth spot in the leading teams in terms of payments.
The distribution is based on income generated from broadcasting rights, both within the UK and international, as well as other commercial rights, as explained on the official Premier League site.
Arsenal were the biggest earners with £101.952 million while Manchester City were second at £96.972m, followed by Manchester United at £96.477m and Tottenham Hotspur with £95.222m.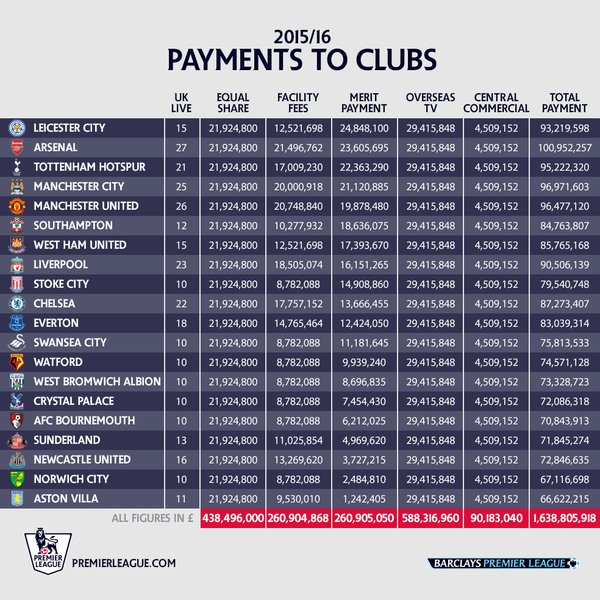 Leicester come in fifth with £93.22m, and that is down to the fact that they were simply shown less by UK television broadcasters.
While Ranieri's men appeared live on TV on 15 occasions, Arsenal saw 27 of their 38 matches picked up between BT and Sky, with United at 26, City 25, Liverpool 23, Chelsea 22 and Tottenham with 21 games shown.
At the other end of the table, relegated Aston Villa picked up £66.622m despite their miserable season seeing them end up bottom of the standings. Along with Newcastle United and Norwich City, the trio will now miss out on the new UK broadcast deal which will see a 71 per cent increase in revenues, with the team finishing bottom next year likely to earn around £100m.
In turn, it was a massive blow for those three clubs to drop down to the Championship, particularly this year, and it remains to be seen which of them will bounce straight back up.