Follow guest writer Asif on Twitter @HerreraTekkers.
Antonio Conte has a big summer ahead of him, first managing Italy during the Euro 2016 followed by taking over as Chelsea's manager for the next three years.
During his time at Juventus, Conte's work earned him a lot of respect, especially when he won the Scudetto three times in a row. The first time he did it the side were undefeated in the league for the whole campaign and on the third time he smashed the Serie A record, by finishing with 102 points and 33 wins.
After a poor season, Chelsea need someone who can motivate them again after losing a lot of confidence under Jose Mourinho last year. Conte is the perfect man – a leader, which is needed to get the best out of the squad. Conte will be putting a lot of work into the players, and each individual shouldn't expect everything to be easy under the Italian. He will want everyone to give it their best until the last minute – to sacrifice until the end.
Conte is well known for his 3-5-2 formation, which he has been using during his time at Juventus and Italy, while many other sides in the Serie A use this formation too. Chelsea fans haven't witnessed a lot of attacking football under Mourinho but they won games and picked up trophies. This is likely to be replicated with Conte, as he likes to play a defensive style. His formations allow the wing-backs to be very busy during the game and it could be effective on the counter attack.
His style is very similar to Diego Simeone, in terms of tactics and style of play. He expects his players to play like they are going into battle and to press the opponents off the ball. This should remind many of Simeone's Atletico Madrid in recent years.
When the Italians talk about Conte, one word that always comes up is "grinta", which means grit in English and it relates to players being tough, having a strong character and to get the dirty and hard job done. With a transfer kitty around £75m, Conte should be able to take Chelsea to the top five and win a domestic cup too.
Also not to forget Chelsea's Juan Cuadrado has spent quite some time in Serie A, playing in a wing-back role so he could be a part of Conte's plan for the next season. The Colombian had a big impact on Juventus winning the league, also picking up the vital winner against Torino which turned around the Old Lady's season. He has provided them a different dynamic with his pace and dribbling assets, notching four goals and five assists in the league this season.
With the way Conte plays, his targets during the summer window will be very limited as not many players would fit into his style. But Chelsea should trust Conte, who has turned to a 4-3-3 or 3-4-3 formations in the past. He isn't afraid of making a few changes when his current plan isn't working. And Chelsea's current 4-2-3-1 system hasn't been working.
Possible signings
Conte likes his defenders to be good in the air and be able to bring the ball out of defence. The Blues could do with another centre-back, especially with Gary Cahill and John Terry now in their 30s. So a centre-back will be a must in the summer, either John Stones or Kostos Manolas would be a dream signing for the Chelsea fans.
Next on the list for Conte is a reliable central midfielder who can play as a box-to-box player. Arturo Vidal thrived under the Italian during their time at Juventus. Conte himself was a box-to-box player back in the day, so he would definitely know the perfect player he wants and could be looking into Radja Nainggolan very closely, who is very similar to Vidal.
The back-three formation wouldn't be something new in the Premier League. Brendan Rodgers and Louis Van Gaal were using it in the past. Many will argue that this style did not work for either manager, but they simply didn't have the right players for it. Neither side had three good centre-backs that were individually reliable in the air or on the ball. They also had good wingers which suffered a lot in the 3-5-2 formation.
It wouldn't be a surprise if Conte makes some harsh decisions. For instance, if a fan's favourite doesn't fit his style he will get sold.
Chelsea finished 10th this season, so their main focus for next year in the Premier League would be to try to hit back by challenging for the top four quickly. With no European distractions, it will help Conte to work out what he tactically needs to do to get the best out of the squad. Thibaut Courtois, Nemanja Matic and Eden Hazard were the main players who were major let downs last year and Conte will be looking to turn it all around by making sure the key players are on their A* game. Keeping the key players will be a big boost for Chelsea, especially if they want to return near the top quickly. The trio have been linked with a move away from Stamford Bridge a lot recently, but the Conte project might be enough for them to stay for another season.
At the moment, it is hard to predict what the XI would be under Conte and what formation he will use. He will surely work that out during pre-season, which could be shorter than normal if Italy go all the way in Euro 2016. Conte has many options though.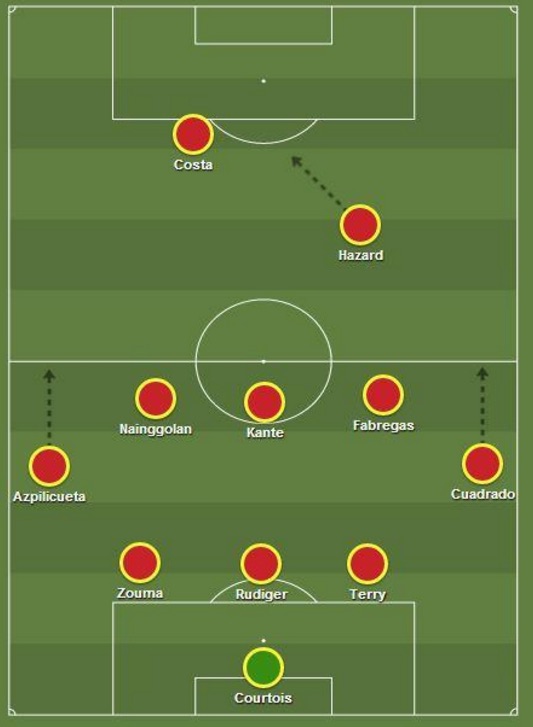 Chelsea fans could see a line-up and formation similar to this, which would give players like Cesar Azpilicueta and Cuadrado the chance to forward. Given the fact that Cuadrado has played as a wing-back for Juventus, he might become a regular starter in a 3-5-2 formation.
This system allows Hazard to play as a second striker close to Diego Costa, giving him a free role instead of asking him to track back a lot, like in the past few years.
Nainggolan would be the box-to-box player from the midfield trio. Conte already sees him like a Vidal type and he could really do well in this formation. Meanwhile, should he arrive from Leicester, N'Golo Kante would become the natural defensive midfielder that would do the key role, allowing Cesc Fabregas to provide some help on both sides of the pitch.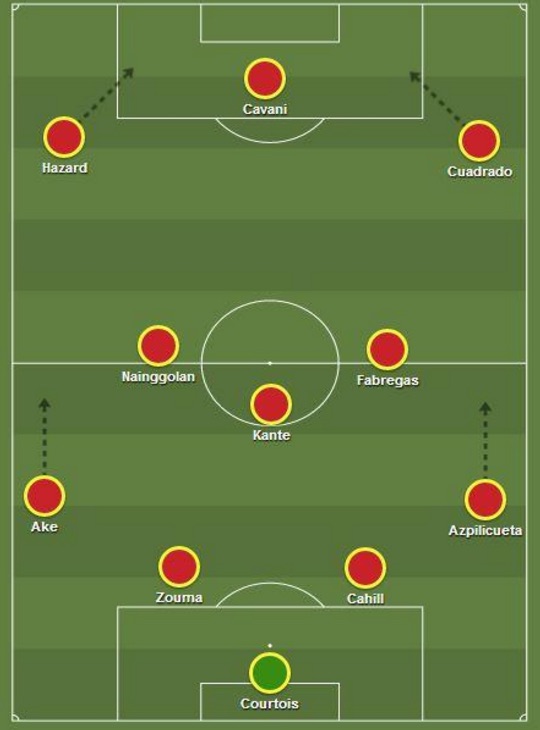 With Chelsea getting caught out too easily in the 4-2-3-1 formation and Conte not a fan of the system, it could also mean that a 4-3-3 is possible.
Gary Cahill and Kurt Zouma would get into the selection ahead of John Terry, who would be used now and then. Conte might be able to give Nathan Ake a chance – he has been impressive during his time at Watford.
But Conte isn't an original fan of the 3-5-2 – he only used it at Juventus because he had three world class centre-backs and decided to build the team around them.
Edinson Cavani could be on for a move to Chelsea. He has always been a fan of Conte and it wouldn't be a surprise if the move happens in the summer. Chelsea have the funds to bring him in, while Costa doesn't seem like an ideal player that would fit into Conte's system.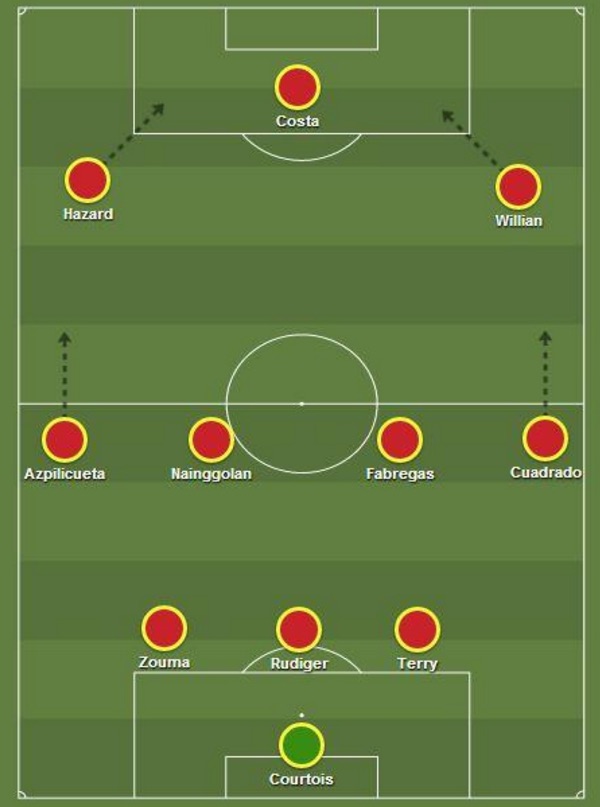 SEE MORE: Hazard can't wait to meet Mourinho again