Juanfran missed the decisive spot kick as Real Madrid beat Atletico Madrid 5-4 on penalties to win the Champions League following a 1-1 draw.
The right-back sent an unconvincing penalty against the post with Real leading 4-3, before Ronaldo stepped up to hammer his spotkick—Real's fifth—into the back of the net.
There was little to celebrate the city rivals over 120 minutes, as Yannick Carrasco's second-half strike cancelled out Sergio Ramos's opener.
Ramos fired Real into a 15th minute lead, heading past Jan Oblak from a swirling cross from Gareth Bale.
.@SergioRamos fires @realmadriden ahead as he scores in consecutive finals. #UCLfinal https://t.co/T9XzY0aVnM

— BT Sport Football (@btsportfootball) May 28, 2016
The goal may have been seen as a good omen by the Merengues fans; not only did Ramos become the only defender to score in two European Cup finals with his opener, but he also brought back memories of the 2014 final, when his late equaliser took the tie to extra time.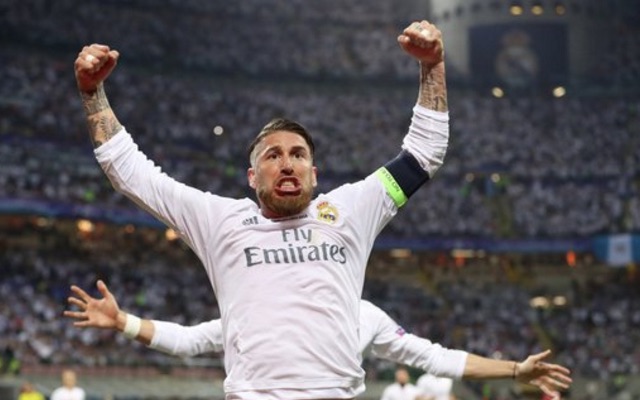 While Atleti struggled to impose themselves before the break, they began to grow in stature after the pause.
The introduction of Yannick Carrasco at half-time helped Diego Simeone's side take the initiative, while an injury to Dani Carvajal severely weakened Real's right flank when he was replaced by the uncertain Danilo.
We … uhhh … hope this is Carrasco's girlfriend (via @notkerouac) https://t.co/t41bCBHxqp https://t.co/lhtgTXjtjX

— SB Nation Soccer (@SBNationSoccer) May 28, 2016
Similarly, an out-of-sorts Karim Benzema was replaced by Lucas Vazquez 13 minutes before full time, but his introduction further weakened Real's right flank.
SEE MORE:
Real Madrid transfer news
Photo: Astonishing Gareth Bale haircut the true show-stealer for Real Madrid in Champions League final
Antoine Griezmann missed a penalty early in the half—slamming his spotkick against the crossbar—but Atletico took advantage of Real's reshuffled right flank two minutes later, as Juanfran found some space out wide and sent in a lightning cross which was duly fired home by Carrasco—the game's outstanding individual during the second half.
#uclfinal / PENALES / #RM 1 (4)- 1 (3) #ATM: ¡FALLÓ JUANFRAN! ¡TENSIÓN EN MILÁN! pic.twitter.com/R23YnncRWI

— Notitarde (@webnotitarde) May 28, 2016
Simeone's troops finished the game on the ascendancy, but were unable to take advantage during extra time, as both sides became tetchy, with both groups of players very evidently drained.