Does anyone like Pepe?
The Real Madrid defender is certainly not easy to like.
In fact, he's very easy to hate, so much so that Gary Lineker – a man so nice he never got a yellow card – took to Twitter to call him a "dick", before quickly upgrading him to an "enormous dick" last night.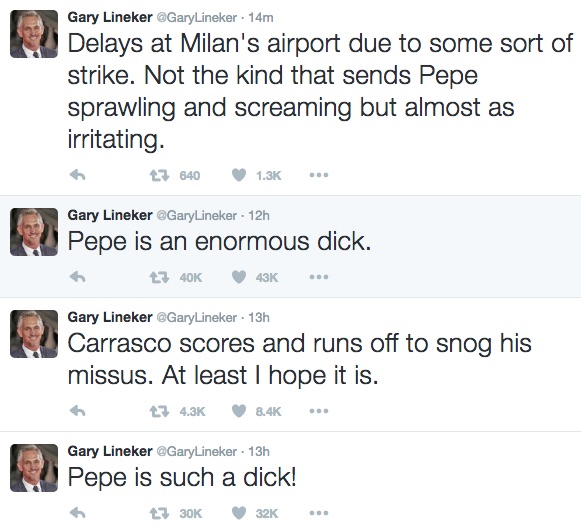 Follow @robsummerscales on Twitter.
Lineker was fronting BT Sport's coverage of yesterday's Champions League final, in which Pepe behaved appallingly.
The Portuguese centre-back spent the whole game trying to get his opponents sent off – a pastime he indulges in every time he takes to the field, in truth.
Lineker was disgusted, so much so that he was still going on about Pepe the following morning when he dropped some airport banter.
Premier League referee Mark Clattenburg was in charge of last night's final – in which Real beat Atletico Madrid on penalties.
And, judging by his facial expressions, the English ref seems to share Lineker's opinion of Pepe.
Any ideas what Clattenburg's tongue-waggling was all about?
SEE ALSO: Yannick Carrasco girlfriend gallery! The pics you need to see of football's coolest WAG Noemie Happart