A 50-year-old man (let that age sink in) who wore a tee-shirt which mocked the victims of the Hillsborough Disaster has been arrested and bailed.
Paul Grange was taken in by West Mercia Police this morning, after a photo of him went viral overnight.
SEE MORE: Paul Grange trends worldwide as sick Hillsborough troll is punished by Liverpool's Lilt-obsessed vigilantes
Mr Grange had been ejected and barred from The Brewers Arms in Worcester as soon as the landlord became aware of his offensive garment.
Before police took him in, social-media users attempted to deal with Mr Grange in their own way, by discovering what they claim was his address and spamming him with takeaways, Lilt, diggers and orders for prostitutes.
Mr Grange was released on bail earlier today.
He is due to appear at Worcester Magistrates' Court in July, having been charged with a Section 5 Public Order Offence.
If found guilty, a fine is the most likely punishment.
SEE ALSO: Day 2 of Paul Grange saga: #GiftsForGrange going strong as punishment continues for attention-seeking scumbag
As well as abusing Mr Grange online, some people chose to harass the landlord of The Brewers Arms and representatives of Stobart Group, for whom they thought the accused worked.
Stobart Group's CEO, Andrew Tinkler, has since come out and condemned Mr Grange, while stating that he does NOT work for the company.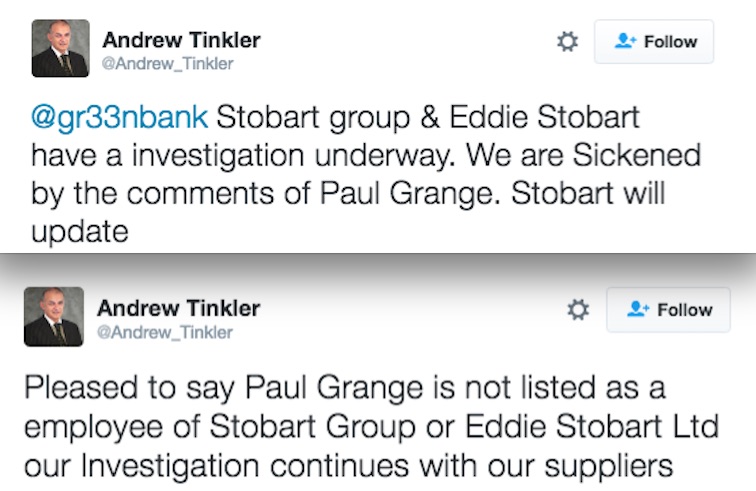 Angry fans are urged to leave Stobart Group out of this. And also urged not to punish the The Brewers Arms or their staff, who acted in the correct way by removing and banning Mr Grange.
Finally, while the Lilt and digger invasion was very funny, it is probably time to end it and let the British justice system deal with Mr Grange.