The Premier League is the home of more Euro 2016 players than any other league.
In-fact, this telling graphic from BBC Sport shows that the English top-flight has nearly twice as much representation at this summer's tournament in France than its closest rival.
A total of 103 players across all of the 24 squads come from the Premier League – 18.6% of the overall 552. Germany's Bundesliga is represented by 57 players, and Spain's La Liga only 34.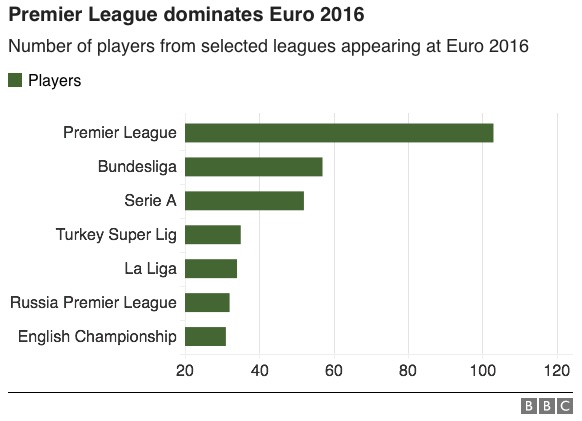 Spain's low representation is a huge surprise considering their dominance of European club football this season. Real Madrid won the Champions League, and Sevilla defended the Europa League.
But while La Liga is top heavy, this shows that the Premier League has greater strength in depth. All 20 clubs have at least one player selected, across 18 of the 24 countries involved.
After England, Wales have the biggest proportion of Premier League players with 13. Both the Republic of Ireland and Belgium have 12, including Kevin de Bruyne and Eden Hazard.
Even the English second tier has more representation than some of the major European leagues. There are 31 players from the Championship, more than France's Ligue 1 and the Eredivisie.