Ramsey's infamous Bebo selfie suddenly doesn't look that bad!
Aaron Ramsey is a good-looking bloke, but he's not David Beckham. Therefore, he can't get away with sh*t like this!
Ramsey has bleached his hair blonde ahead of Euro 2016, where he will be representing Wales, although we kind of get the feeling he'd rather be lining up for Romania in their 90s glory days.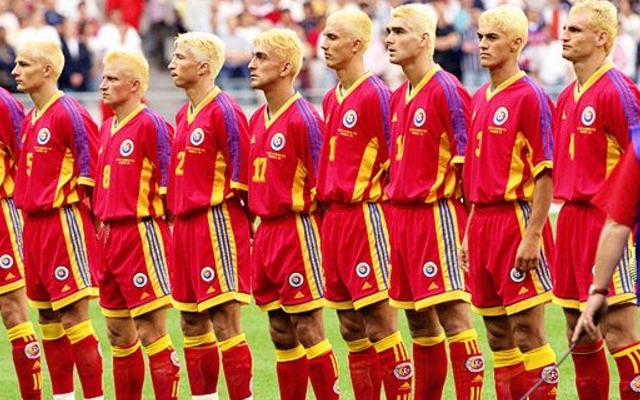 Needless to say, Ramsey's new do has not gone down well on social media.
It was first spotted on Instagram, where the Arsenal star posted an otherwise pleasant photo of himself holding his baby boy.
Ramsey Jr looked on point, rocking a classic Phil Mitchell trim, but his dad was subjected to all sorts of ridicule in the comments box.
He was likened to both Eminem and Arsenal hate-figure Samir Nasri.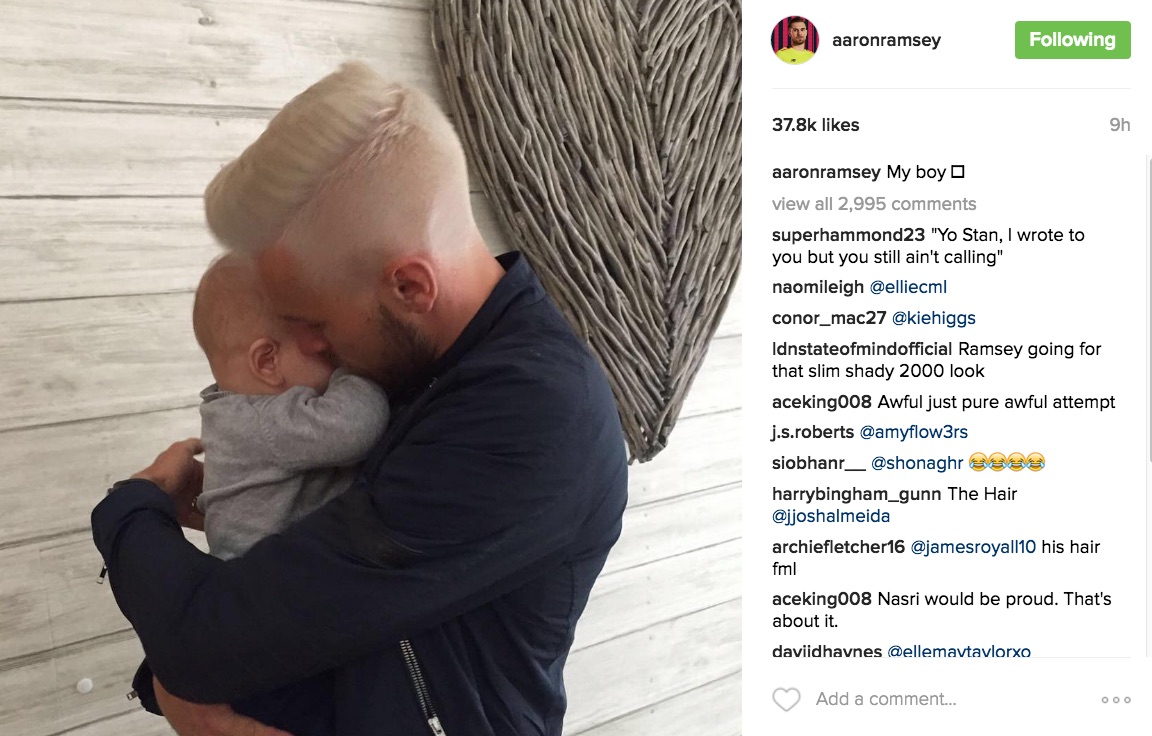 SEE ALSO: 5th-best player going to Euro 2016 is James Milner and 15 of top 100 are English, according to UEFA rankings
The hate continued on Twitter. And some of it was pretty raw…
aaron ramsey your hair is shit and you are shit. stop trying to get a personality because it will never happen

— seoulgooner (@DavidBull18) May 31, 2016
Don't worry though, there was bantz too…
BREAKING: @aaronramsey has terminated his contract with Barnet FC, more on this as we get it pic.twitter.com/Mbx6xuOQvq

— Coq Blocked (@CoqBlocked_) May 31, 2016
So much bantz…
Is Aaron Ramsey's new hair even legal anyway?

— Wojciech (@notwojciech) May 31, 2016
Too much bantz?
I love Aaron Ramsey's hair, I did the same to my hair at 16. Been a virgin ever since.

— Eloquent Forbearance (@_TheBeck_) May 31, 2016
Other than bantz, shock was the general vibe…
Aaron Ramsey's new hair got me like pic.twitter.com/Va4LQsQx3U

— Matthew Baxter (@Baxter789) May 31, 2016
Out came the GIFS…
My first reaction when I saw Aaron Ramsey's hair ? pic.twitter.com/DjBfE0a9vj

— Asl? (@dubljevicius) May 31, 2016
And then more hate…
Hahaha bleaching his hair is a classic "I promise I'm not boring, look how zany I am" move by Aaron Ramsey

— Jon-T (@AchtungJono) May 31, 2016
SEE MORE:
New Rashford wage: Man United starlet still paid more than 10x less than Rooney
Willian fat: Chelsea star bloats up due to suspected US food binge
Paul Grange: Hillsborough troll is punished by Liverpool's Lilt-obsessed vigilantes