Borussia Dortmund fired a parting shot as Ilkay Gundogan and Manchester City after seeing their midfielder complete his transfer to the Etihad Stadium this morning.
Gundogan has signed a four-year deal with City and cost them around £20m, according to BBC Sport.
SEE MORE: Ilkay Gundogan Manchester City: Citizens confirm signing of Dortmund midfielder
Dortmund must be getting sick of losing their star players. Captain Mats Hummels has recently left for Bayern Munich, following in the footsteps of Robert Lewandowski and Mario Gotze.
The Bundesliga club have learned to accept being raided by their famous German rivals, but apparently they draw the line at the team who "finished fourth in the Premier League last season".
When announcing Gundogan's departure on Facebook, the cheeky Dortmund social media team trolled the 25-year-old for joining what they believe to be a less prestigious club.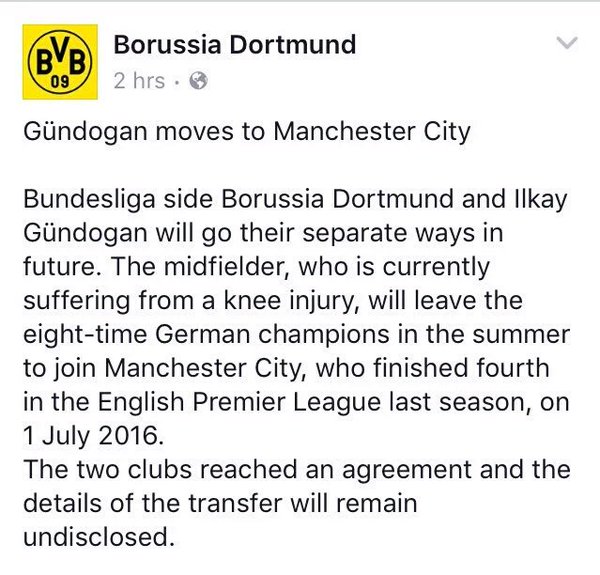 Credit to Dortmund, at least they have a sense of humour about it!
SEE ALSO:
Ilkay Gundogan WAG: Hot gallery of Sila Sahin – incredible girlfriend of new Man City signing!
Opinion: Why Ilkay Gundogan is a perfect fit for Pep Guardiola's Manchester City
Liverpool pipped to another top young talent by Dortmund; price tag snag gives Reds hope