The clever people at CIES Football Observatory have conducted a study to discover the world's most valuable footballers, using a complex mathematical formula.
We didn't need Good Will Hunting to tell us that Lionel Messi, Neymar and Cristiano Ronaldo are the top three, but there are some very interesting findings below that.
The study concluded that Tottenham Hotspur striker Harry Kane was the most valuable player in the Premier League, and fifth most valuable in the world at €112.5m (£87.8m).
Spurs also have Dele Alli in the top 20. The study values the 20-year-old at €75.2m (£58.9m), less than a year after he made his Tottenham debut after joining from MK Dons.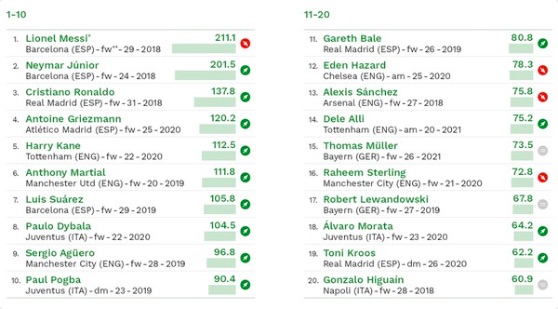 Manchester United starlet Anthony Martial is just below Kane in sixth, at an estimated value of €111.8m (£87.3m), ahead of Manchester City rival Sergio Aguero at €96.8m (£75.6m).
Atletico Madrid forward Antoine Griezmann (£93.8m) is sandwiched between Kane and the 2016 Ballon d'Or nominees, while Barcelona striker Luis Suarez and Paulo Dybala are also valued above €100m.
Dybala's Juventus teammate Paul Pogba (€70.6m) completes the top 10. The Frenchman is expected to be one of the hottest commodities in this summer's transfer window, but won't come cheap!
Chelsea and Arsenal are also represented in the top 20 through Eden Hazard and Alexis Sanchez, although the Football Observatory says that their values have dropped over the last 12 months.
Raheem Sterling makes it three English players in the top 20. His value has, somehow, allegedly risen to £56.8m from the £49m that Man City paid for him last summer – fee reported by BBC Sport.
The Premier League has seven players in the top 20 – the same amount as Spain's La Liga. Four Serie A players, three belonging to Juventus, and two Bayern Munich stars complete football's top assets.
The Football Observatory use complicated algorithm, which takes into account factors such as performance, age, contract length and international status to make their calculations.
SEE MORE:
Three ways England could line up with Harry Kane, Jamie Vardy & Captain Dilemma at Euro 2016
Manchester United looking to smash British transfer record with £60m bid for midfield powerhouse
Chelsea hunting Liverpool flop ahead of seriously questionable potential summer transfer