Let's face it, last night was a bit of a mess from an England perspective.
A 1-0 win against 10-man Portugal courtesy of Chris Smalling's late header did not mask some more befuddling Roy Hodgson tactics aimed to accommodate Wayne Rooney.
SEE MORE: (Video) Bruno Alves sent off for trying to decapitate Harry 'nails' Kane
Hodgson's insistence on starting his captain, and England's all-time leading goalscorer, in attack is proving to be his biggest downfall and dilemma on the eve of Euro 2016.
Against Portugal, Harry Kane and Jamie Vardy, who scored 49 Premier League goals between them this season, were pushed out wide to allow Rooney to play through the middle.
Some England fans on Twitter were not happy with Hodgson's tactics.
Any danger of playing Kane or Vardy through the middle Roy?

— James Hale (@JamesHale21) June 2, 2016
Only Roy Hodgson would start the Premier League's two top goalscorers just to stick one out wide and the other on corner duty. Genius.

— Dream Team (@dreamteamfc) June 2, 2016
We must accept now that Rooney is going to start England's Group B opener against Russia, so CaughtOffside have come up with three ways to fit him, Kane and Vardy into the same team:
1. This is the closest variation to the formation that England were *supposed* to be playing at Wembley last night, except Hodgson's diamond split strikers Kane and Vardy too wide, too often.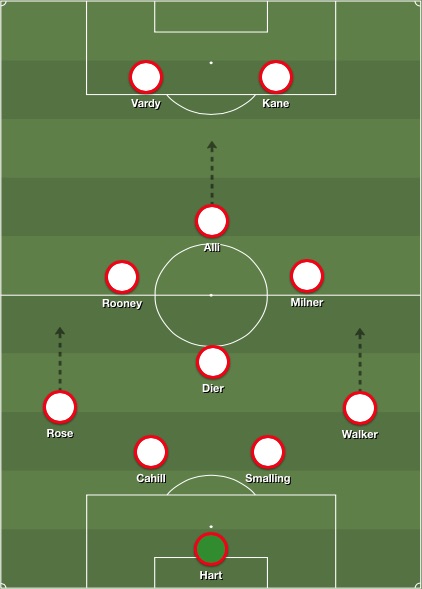 For much of the first half especially, Rooney was England's most advanced player. He was still playing as a forward, eating into Kane and Vardy's space and forcing them away from the danger areas.
England would greatly benefit from Rooney dropping back into the midfield two of the diamond, where he is able to pick up the ball from deep and find passes, as he has done recently for Manchester United.
Dele Alli can play at the tip of the diamond, closer to Tottenham Hotspur teammate Kane. He is not a striker by trade, so won't eat up the space as Rooney did. Instead, Alli can make threatening late runs into the box, and England's best three attackers are actually all playing in their best positions.
2. The formation that Hodgson primarily used in qualifying, 4-3-3 focuses more on width and therefore it is impossible to fit Kane, Vardy and Rooney into the side in their natural positions.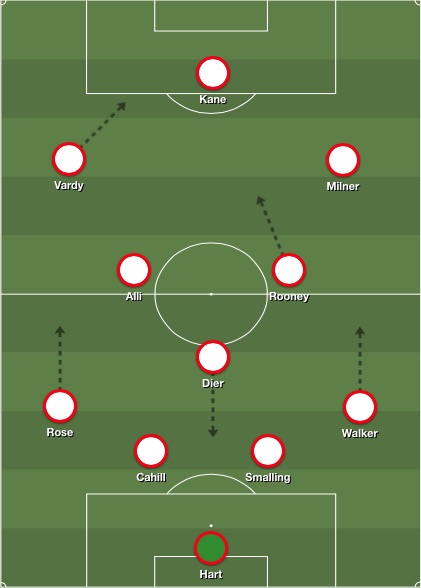 Spurs hitman Kane is best suited to lead the line. The 22-year-old has developed into one of the most complete strikers around and is the most physically capable of occupying two centre-backs.
Vardy has played well off the left for England before. He can stretch defences on the counter-attack with his lightning pace, and drive inside to leave room for full-back Danny Rose on the overlap.
That leaves Rooney again in the midfield spot where it seems he could spend most of the rest of his career. He and Alli in front of Eric Dier makes for an exciting but offensive trio, so James Milner keeps his place on the right wing. The Liverpool workhorse can help out in the centre of the park.
3. A narrow and modified version of the 4-2-3-1, this system has a few square pegs in round holes, but it does get arguably all of England's most talented players in the team without jeopardising balance.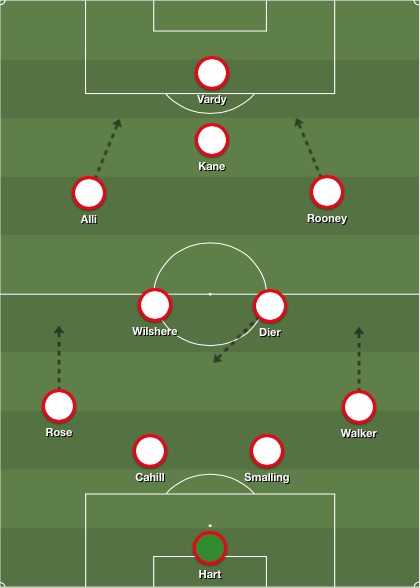 Leicester City striker Vardy is moved inside so he is not shackled by too much defensive responsibility. Alli and Rooney are both more naturally suited to tracking a winger or helping out their full-back.
The Foxes hero can lead the line as a No. 9, with Kane as a Teddy Sheringham-esque No.10, a role in which he is equally adept, so much so that he has been dubbed a 'No. 9 1/2' by some Spurs fans.
Alli can maintain his goalscoring threat from the left – several of his strikes for Tottenham this season were coming in off the flank. Rooney is a makeshift right winger, although again the emphasis would be on the full-backs to provide width. But he is lucky to be in the team, so he'll taken what he is given!
Follow @JoeFish08 on Twitter
SEE ALSO:
Watch James Milner lovingly take care of Harry Kane after England striker is assaulted at Wembley
England squad numbers: Promising signs for Spurs pair, Euro 2016 midfield plans remain a mystery
England 2-1 Australia: Five mistakes Roy Hodgson made in a masterclass of mismanagement