Dozens of star footballers and thousands of fans were in attendance at Stade de France for Les Bleus' match against Romania. But one Frenchman specifically could only watch the game in frustration from the relative comfort of his own home: Real Madrid scoring machine Karim Benzema.
Taking to Instagram several minutes after the opening whistle, Benzema posted a picture taken from behind of himself sitting on the couch facing a large television to watch the game. His message read, "Bonne chance" or "Good luck."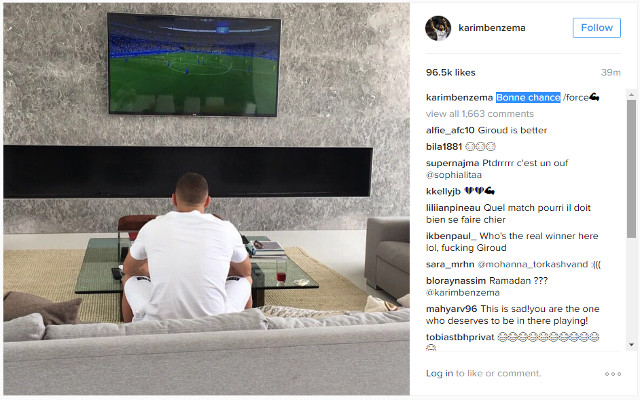 Benzema is France's active scoring leader and caps leader with 27 goals in 81 appearances for Les Bleus. He set career highs in scoring with 24 goals in 27 La Liga matches for Real Madrid – the highest goals/match average of his career.
However, Benzema was axed from the team by manager Didier Deschamps after his November arrest for blackmailing teammate Mathieu Valbuena. The incident caused French Prime Minister Manuel Valls to personally call for Benzema's removal from the team. He has not been featured in any fixture for France since his arrest.
France didn't end up needing Benzema to beat Romania though as Dimitri Payet stole the show with a goal and an assist in the 2-1 win.
Follow Jonathan Machlin on Twitter @jtmlovessports
SEE MORE:
Watch: England's Unofficial Euro 2016 Song – "Gonna Win The Euros", made for less than £20
Euro 2016 Tips : Top 5 Free Bets Offers Getting Punters in a Frenzy as Tournament Set For Kick Off
Euro 2016 predictions part 6: England's star man – shouts for five Tottenham stars & Arsenal rival